Posted on
Wed, Nov 16, 2011 : 12:30 p.m.
Organ donation sign-up drive at U-M's Big House gives patients 'a second chance' at life
By Kellie Woodhouse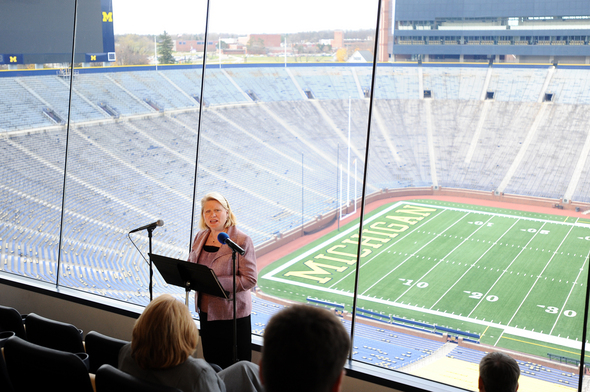 Melanie Maxwell I AnnArbor.com
University of Michigan Athletic Director Dave Brandon
stood among club level seats inside
Michigan Stadium
and gestured to the thousands of bleacher seats behind him.
"Every football game we'll put somewhere between 110,000 and 115,000 people in this stadium," Brandon said. "And that's about the same number of people nationwide who are waiting for an organ."
Brandon was speaking at a press conference for the 'Be a Hero at the Big House' donor drive on Wednesday morning at Michigan Stadium. Until 7 p.m. Wednesday, attendees can tour the club-level seating area at the Big House, give blood and sign up to donate organs.
Officials at the event, including Michigan Secretary of State Ruth Johnson, emphasized the importance of organ and blood donation in a push to finish out 2011 with a record number of donor sign-ups in Michigan.
U-M is also looking to beat Ohio State in their annual 'blood battle,' a contest to see which of the school community can give more blood before Buckeyes take on the Wolverines in Ann Arbor after Thanksgiving.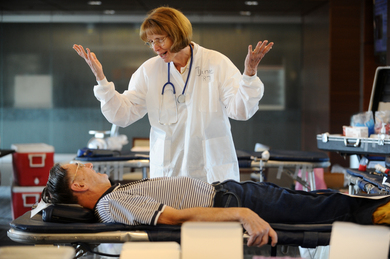 Melanie Maxwell I AnnArbor.com
"We want to teach our student athletes the importance of … being part of something bigger than themselves," Brandon said. "We also want to take every opportunity to beat Ohio."
West Bloomfield resident Lois Paquin-Hoffiz was at the event as a volunteer and blood donor. Her mother, who died in a car accident last year, was an organ donor whose skin and tissue donations helped seven people.
"She was a very, very giving person to begin with and just helped everybody out," Paquin-Hoffiz recalls. "It meant a lot to me to know that , even after she died, she was able to help people."
Tucker Schumacher received a liver transplant when he was 14 months old. The Saginaw high school senior battled with liver cancer from infancy. After several months of chemotherapy, his family was told that without a donated liver, he would likely lose that battle.
"It was because of a charismatic and good-natured family that lost their beloved daughter that I am here speaking to you today," Schumacher said, adding that he was "given a second chance."
In Michigan, about 2.3 million people are listed on the donor registry. Right now, about 3,000 people battling life-threatening sicknesses are waiting for organs, secretary Johnson said.
Johnson said the number of individuals who signed up to be donors this year "could fill nearly three stadiums the size of the Big House."
But that's still not enough, Schumacher said.
"There is a major shortage of donors in this state as well was this country," he said. "Thousands of patients are waiting… without much hope."
Kellie Woodhouse covers higher education for AnnArbor.com. Reach her at kelliewoodhouse@annarbor.com or 734-623-4602 and follow her on twitter.