Car crashes into wall of Chinese restaurant near Ann Arbor
Posted on Fri, Apr 27, 2012 : 7:37 a.m.
Editor's note: This story has been updated with additional information from police.
A 19-year-year-old Saline resident was taken to the hospital after the car he was driving crashed into the wall of a Chinese restaurant on Washtenaw Avenue in Pittsfield Township Thursday night.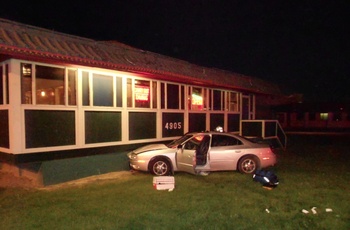 Pittsfield Township Police photo
The 2002 Oldsmobile Aurora the 19-year-old was driving west left the north side of Washtenaw Avenue, traveled across the grass and struck the side of Ypbor Yan Chinese restaurant at 4905 Washtenaw Avenue about 8:50 p.m. Thursday, Pittsfield Township Police said in a press release.
The driver lost consciousness shortly before losing control of the vehicle and crashing into the wall, Deputy Police Chief Gordy Schick said. He suffered minor cuts, Schick said. Officers are investigating to determine whether drugs or alcohol may be involved, police said.
The driver was taken to St. Joseph Mercy Hospital in Superior Township with injuries that were not life threatening, police said.
The accident was at least the second crash into a building in the Ann Arbor area in less than a week. A woman crashed her car through the wall at a Panera Bread Restaurant on Plymouth Road in Ann Arbor on Sunday. Police said her foot hit the gas pedal instead of the brake as she was turning onto Plymouth Road from Murfin Avenue. She was not seriously injured.