Posted on
Thu, Jan 31, 2013 : 7:31 a.m.
Winter weather advisory issued: Crashes clog freeways, U-S 23 closed
By Cindy Heflin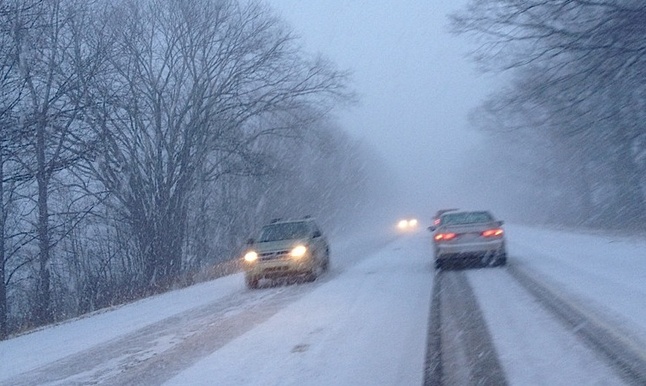 John Counts | AnnArbor.com
Update, 9:30 a.m.: U.S. 23 in the Milan area still has one lane closed on the southbound side of the freeway. The other lanes have been reopened.
Crashes on U.S. 23 near the Washtenaw-Monroe County line closed the freeway Thursday morning as snow fell in the Ann Arbor area.
Details about the accidents were not immediately available, but a dispatcher with the Washtenaw County Sheriff's Office said both the northbound and southbound lanes of the freeway had been closed.
Emergency crews were dealing with multiple crashes on Ann Arbor-area roads and freeways as drivers struggled to cope with bands of lake effect snow.
The National Weather Service issued a winter weather advisory in effect until 1 p.m., warning of blowing snow and up to 3 inches of accumulation in some areas. The advisory is in effect until 1 p.m.
In the Milan area, the slick freeway led to a multiple-vehicle pileup, said firefighter Greg Brierley. About eight to 12 vehicles were involved in that crash and there were other crashes north and south of the main one, he said.
One car was stuck under a semi, but the driver was not injured, he said. One driver had to be extricated from a vehicle. Only two people had been transported to the hospital, he said.
"The whole city of Milan is just ice," he said.
Several crashes had been reported on Interstate 94 and in the city of Ann Arbor, a dispatcher said at 7:20 a.m. Crashes had also been reported in the area of northbound U.S. 23 and Geddes Road. A motorist reported a big backup on eastbound I-94 at Old U.S. 12 near Chelsea. Jackson Road was also reported to be backed up in the area.
Crashes were also reported later in the morning at I-94 and Ann Arbor-Saline Road and I-94 and Dancer Road. Several crashes had also occurred near the intersection of Miller and Wagner Roads in Scio Township, a dispatcher said at 8:40 a.m.
Ann Arbor Police also reported multiple crashes in the city.
Jim Harmon, director of operations for the Washtenaw County Road Commission, said most snowplow drivers reported at 7 a.m. Thursday and were heading out to their routes. A few drivers had been called in early to deal with trouble spots.
The Baker Road overpass at I-94 was particularly slippery, Harmon said.
He said some areas were experiencing intense snowfall as the bands of lake effect snow move through. In other areas, it may not be snowing at all, he said.
For the rest of the day, the Ann Arbor area can expect occasional snow showers with a high near 24. It will be windy with gusts up to 39 mph.
Thursday night, show showers are likely with an additional inch of accumulation expected. It will be cloudy with a low around 13 and wind chill values as low as 1 below zero.
Friday, scattered snow showers are expected before 9 a.m. It will be mostly cloudy, with a high near 19 and wind chill values as low as 2 below.

View Crash 013113 in a larger map
Cindy Heflin is associate news director at AnnArbor.com. Contact her at cindyheflin@annarbor.com or 734-623-2572 or follow her on Twitter.