Posted on
Sun, Apr 7, 2013 : 1 p.m.
Drowning in outdated electronics? U-M, AAPS to host annual e-waste recycling events
By Amy Biolchini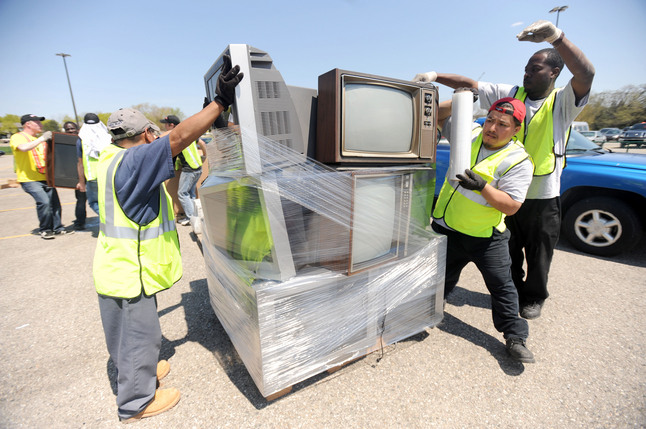 Angela J. Cesere | AnnArbor.com file photo
Has your home become a graveyard for old TVs, broken cellphones and outdated iPhone cords?
Does your workplace have a room full of computer monitors you haven't used in the past 10 years?
The University of Michigan and Ann Arbor Public Schools have announced the dates of their annual electronic waste recycling events for the public and for businesses.
There is no cost to participate and no limit to the amount of electronic equipment people can bring to recycle. Workers at the events will unload the equipment from people's cars.
The recycling event open to the general public will be from 9 a.m. to 2 p.m. April 27 at Pioneer High School at 601 W. Stadium Blvd. in Ann Arbor.
For businesses, schools, government offices and nonprofit organizations, the event will be from 9 a.m. to 2 p.m. April 25 and 26 in the parking lot for U-M Tennis and Gymnastics at 2250 S. State St. in Ann Arbor.
Businesses and other organizations planning to drop off large volumes of old electronics are encouraged to pre-register for the event online.
Accepted materials include: CRT monitors, LCD displays, laptops, servers, wires, cables, keyboards, mice, speakers, hard drives, TVs, DVD players, VCRs, stereo systems, camcorders, cameras, radios, video game systems, cellphones, pagers, telephones, fax machines, copiers, typewriters, microwaves, printers and scanners.
Materials that will not be accepted include smoke detectors, household appliances, hairdryers, light bulbs and CRT screens that are broken or cracked.
All materials collected at the events will be dissembled into raw materials at facilities in the U.S. for re-use. Storage devices like hard drives will be mechanically shredded.
In its sixth year, this recycling event hosted by U-M and AAPS has filled a total of 89 semi trucks and prevented 1,168 tons of electronic waste from entering landfills.
Amy Biolchini covers Washtenaw County, health and environmental issues for AnnArbor.com. Reach her at (734) 623-2552, amybiolchini@annarbor.com or on Twitter.