Posted on
Wed, Jun 6, 2012 : 5:57 a.m.
DTE on new substation serving downtown Ann Arbor: 'We're essentially trying to fill a 26-megawatt hole'
By Ryan J. Stanton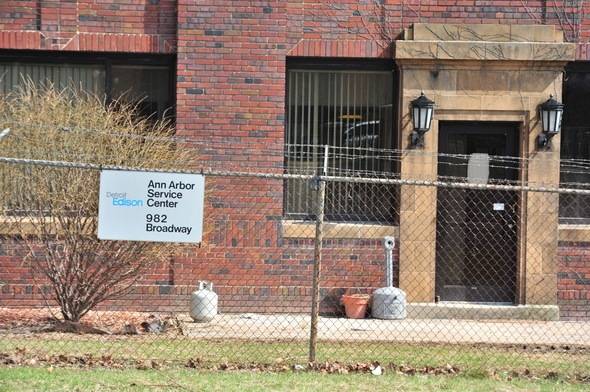 Ryan J. Stanton | AnnArbor.com
A new
DTE Energy substation
serving the downtown's growing energy needs passed 5-1 at the
Ann Arbor Planning Commission
Tuesday night.
Commissioner Erica Briggs was the only to vote against the potentially $10 million project, arguing the city should pause and take a broader look at its community energy needs.
A new set of sustainability goals the commission separately approved Tuesday night calls for reducing Ann Arbor's energy consumption as a community. Briggs pointed out that approving a project to increase the city's energy capacity seems to run counter to that goal.
DTE plans to construct the new electrical substation at its service center facility at 984 Broadway St. to address increased demand for electric power in downtown Ann Arbor.
The substation's approval was postponed last month due to outstanding issues regarding floodplain impact and fire hydrant coverage, which Planning Manager Wendy Rampson said are resolved now. The city's planning staff recommended the project's approval.
Ryan J. Stanton | AnnArbor.com
Mike Witkowski
, a planning engineer for DTE, spoke before commissioners Tuesday night to reiterate the importance of the project.
From 2009 through 2011, he said, summer loading peaks were up about 12 percent for the Ann Arbor area — and up 17 percent within a one-mile radius of the area in question.
"Without this project, there's certainly the increased risk of brownouts and blackouts, and we've done a lot already behind the scenes," he said.
Witkowski said DTE is counting on ordering a $500,000 piece of equipment this month to ensure delivery by January or February.
He said the project will help serve new businesses and developments.
Briggs said she was concerned the Planning Commission hadn't done its due diligence to look at what a new substation means for long-term energy needs in Ann Arbor as a community.
While it's great that DTE is being proactive in making sure energy capacity is available to handle increased demand, she said, the city has its own agenda.
She said the amount of energy Ann Arbor is using as a community will be addressed through a new Climate Action Plan that's coming forward, as well as the city's sustainability framework.
Briggs pushed for postponement to have a more in-depth discussion about the city's long-term energy needs, but she didn't receive any support.
Rampson said the issues Briggs raised might be best addressed through the Climate Action Plan. At its August 2011 meeting, the Ann Arbor Energy Commission appointed a special task force to assist drafting an updated Climate Action Plan for Ann Arbor.
The issues around the electrical grid in the downtown area and the need to support added density has been discussed for about the last 10 years, Rampson said. She said DTE has been in discussions with the city's Energy Commission.
Briggs said the city is talking about significantly reducing the amount of energy the community is using, so it concerns her that the new substation hasn't been fully discussed in that context.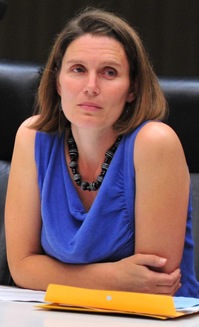 Ryan J. Stanton | AnnArbor.com
The substation addition would be located at the northeast corner of DTE's service center facility at 984 Broadway St., in an area now occupied by a service drive.
The substation would consist of two 15.5-foot tall electrical transformers and related electrical equipment on raised concrete pads and a new Power Delivery Center, a 630-square-foot, 12.5-foot-tall steel structure. The project also would include a new 6-foot-tall perimeter chain link fence with one foot of barb wire and a concrete block retaining wall.
Paul Ganz, regional relations manager for DTE, said the Argo substation across the street has grown to its maximum capacity.
"We had to carve out a whole new territory, which we're going to call the Buckler substation, and we're using existing Edison property to do so," he said.
"And we're essentially trying to fill a 26-megawatt hole, which has grown in the middle of that substation area," he said, adding that demands an entirely new substation.
He also cited new developments, including hotels, restaurants and parts of the University of Michigan medical center, as drivers of the new substation.
"All of that load has already been promised to people … so we're just responding to the need," he said, citing the new substation as an $8 million to $10 million investment.
Ganz and Witkowski originally announced plans for the new substation at a Downtown Development Authority meeting in April 2011. At the time, they made note of several high-rise developments going up downtown, some of which are nearing completion now.
Commissioners Bonnie Bona, Evan Pratt and Kirk Westphal were absent Tuesday.
Ryan J. Stanton covers government and politics for AnnArbor.com. Reach him at ryanstanton@annarbor.com or 734-623-2529. You also can follow him on Twitter or subscribe to AnnArbor.com's email newsletters.