Posted on
Sun, Mar 3, 2013 : 1:36 p.m.
Dusty's Collision owner pledges $75,000 to support Regional Career Technical Center
By Erica Hobbs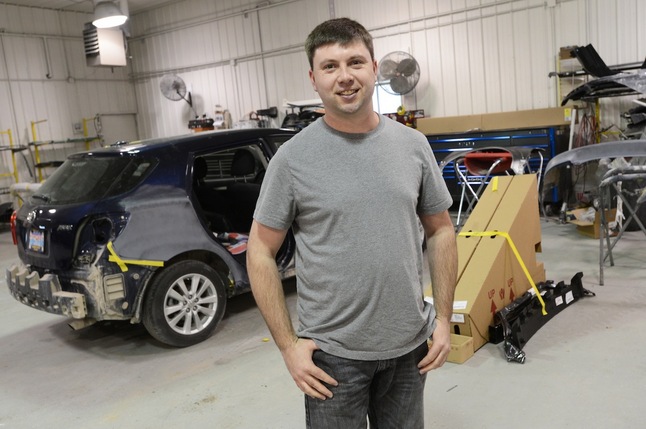 Melanie Maxwell | AnnArbor.com
A former
Regional Career Technical Center
student is giving back to the Ypsilanti-based vocational program that he says made him successful at a time when budget cuts have significantly reduced the programs offered.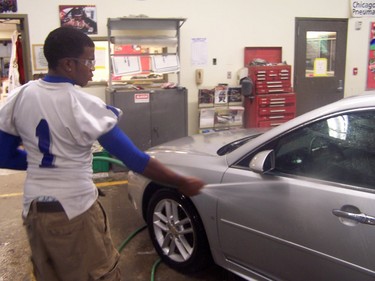 Courtesy photo
Dusty Whitney
, owner of three Ann Arbor auto collision repair shops that bear his name, has pledged to give the center's auto center $25,000 a year for three years to help keep it up and running for future students. Whitney gave his first check to the program last summer for the 2012-13 school year.
"Over the years I've kept a pretty big business, so I wanted to give back to something that kind of helped me get started," he said. "I think it's a very important thing. There are some kids that are just hands-on and have certain skills, book work isn't for everybody."
Whitney attended the RCTC in the early 1990s and opened Dusty's Collision at 2418 S. Industrial Hwy in Ann Arbor in 1995.
When he was a student, Whitney said, students were allowed to bring in their own cars to work on. Whitney started by fixing his parents' friends' cars and then started knocking on doors at homes where he saw wrecked cars out front. He eventually gained a large enough clientele to rent a small shop of his own to meet the demand.
Whitney now owns six auto collision repair shops across the state, including locations in Flat Rock, Temperance and Grand Blanc. He employs 70 full-time workers, some of whom are RCTC graduates.
"When I was in school, I wasn't a very good student and I got involved with the RCTC and the auto body program and that kept me out of trouble and kept me motivated and interested in fixing cars," he said. "So I basically was able to start a business right out of high school."
Facing a budget shortfall, Ypsilanti Public Schools cut five of the RCTC's eight programs in 2012 — construction technology, child care, health occupations, computer systems technology and graphic arts — saving the district about $500,000, said Sharon Irvine, the district's executive director of human resources.
Collision repair, automobile technology and culinary arts and hospitality management survived the cuts, but RCTC Director Bill Burnette said they are still under threat of being replaced with courses at Washtenaw Community College.
Whitney's support makes up nearly 25 percent of the auto center's operating costs and has significantly bolstered the program for the next three years, Burnette said. Whitney, who also serves on the program's advisory board, has known Burnette since having him as a teacher during his time at the RCTC.
When he heard of the cuts the district was making to the RCTC in January 2012, Burnette said he called Whitney for corporate sponsorship, and Whitney immediately pledged $75,000 over a three-year-period with the possibility of extension.
"His donation has helped provide para-educator support for the program as well as the cost of program administration/supervision," Irvine said in an email. "It has also provided an instructional supplement to the program."
Whitney credits Burnette and the RCTC for his training, but Burnette said Whitney was an incredible student.
"He's an amazing young man and his success speaks for himself," he said. "He's made it, and he's worked hard for it."
Whitney said he is currently expanding his first shop, Dusty's Collision, from 15,000 square feet to 25,000 and plans to transform the bigger space into a company headquarters and training facility for employees. He hopes to work with the RCTC to create a training program where auto collision students will be able to spend time at his facility getting hands-on training in a real shop, at no cost to the center.
In addition to the real world experience, Whitney said the training could also lead to full-time employment at one of Whitney's shops.
"Most of my employees are getting older now, and I need people to replace those employees," he said. "It'd be nice to give others the same kind of opportunity I was given."
Erica Hobbs is a freelance reporter.