Posted on
Tue, Aug 3, 2010 : 11:46 a.m.
Early voters in Ann Arbor favor incumbents, say they're pleased with direction city is headed
By Ryan J. Stanton
Ryan J. Stanton | AnnArbor.com
The polls are open in Ann Arbor, and voters are speaking.
So far, they appear to be saying they want to keep Mayor John Hieftje and all three incumbent Ann Arbor City Council members who are up for reelection today in office.
In more than two hours of talking to voters outside various polling locations this morning, AnnArbor.com was unable to find a single person who had cast a vote in favor of any of the challengers running for city offices.
Voters overwhelmingly supported Hieftje over his opponent, Patricia Lesko, saying they're generally pleased with the direction the city is headed. And incumbent council members — Sandi Smith, Margie Teall and Carsten Hohnke — also received praise from voters.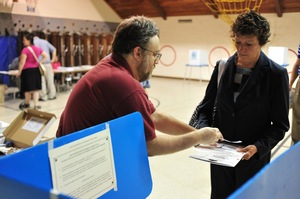 Ryan J. Stanton | AnnArbor.com
"I don't think this is a race where we need people who challenge the incumbents and say they're not doing a good job because they are," said 4th Ward resident Amy Higgins, who cast her vote at Lawton Elementary School.
"I definitely went for John Hieftje," she said. "I think he's been a great mayor. I think those who oppose him are myopic. They're looking at very minor issues. He has a long-term vision for our area and our city and I think that he chips away at that in an extremely organized, calm, forward-looking way."
Higgins said she supported Teall over opponent Jack Eaton for the same reasons.
In the 1st and 5th Wards, voters also favored the incumbents. Smith, D-1st Ward, faces challenger Sumi Kailasapathy. Hohnke, D-5th Ward, faces Lou Glorie.
Glorie, Kailasapathy, Eaton and Lesko are part of an unofficial slate of candidates hoping to oust the current council majority.
Fifth Ward resident Bryan Weinert, who cast his ballot at Slauson Middle School, said the choice was easy today. He voted to reelect both Hieftje and Hohnke.
"He's a very thoughtful individual," he said of Hohnke. "He's sharp and open to getting feedback from his constituents. In my mind, he is exactly the kind of citizen leader that we would hope for, so I'm very pleased with Carsten's work the last two years and the spirit he brings to the City Council."
Weinert was one of several voters who said they felt the incumbents would work better with others to move the city forward.
"I think he has an ability to work well with people from a variety of ideological perspectives," he said of Hieftje. "And I think his opponent certainly came across as someone far less willing to be able to work in a collaborative, cooperative manner, and sometimes in a way that requires political compromise in order to move forward. I'm tired of idealogues who are so rigid and cocksure of themselves. I always appreciate a little humility."
Other voters said they were turned off by the negative style of campaign the challengers ran and believed Lesko particularly propagated myths and inaccurate depictions of the incumbent and Ann Arbor city government in general.
But the races for mayor and City Council aren't the only draw for voters today. Also on the ballot are important state House and Senate races, as well as choices for Michigan's next governor.
Several voters said they were torn between Jeff Irwin and Ned Staebler in the 53rd District state House race and Pam Byrnes and Rebekah Warren in the 18th District state Senate race.
Voters were more sure of their picks in the gubernatorial race.
Several Democrats said they liked Andy Dillon over Virg Bernero. Those who voted for Bernero cited his pro-choice stance and said he was the truest Democrat in the race. Those who voted for Dillon cited his moderate political leanings and willingness to work across the aisle.
But multiple voters who identified themselves as Democrats said they crossed over party lines completely today and voted Republican because they either liked the candidates on the GOP side of the ticket better or just felt their vote was better used there.
"I'm not a usual Republican, but for the governor's race I voted for Mike Bouchard," said 4th Ward voter Laura Ent. "I didn't see a lot of negative campaigning on his part, and you don't hear a lot of negative things about him from other opponents."
First Ward voter Fred Lee went for the local guy.
"I felt that Rick Snyder might be a good candidate because he has experience in creating jobs and all that, and I think that's what we need right now," he said, also citing Snyder's moderate leanings. "He's more open-minded. I'm a Republican, but I don't want to be extremely conservative. That's what I think led to where we are today."
Debbie Foster, a recently retired teacher and 4th Ward voter, rode her bike to Pioneer High School to cast her ballot mid-morning.
"The economy. Jobs. Education," Foster said when asked what issues were the most important to her this election season. "Michigan has to get back on its feet." Foster chose Bernero over Dillon. But she said if Dillon and Snyder faced off in November, she would cross party lines to pick Snyder. Foster and other teachers voting Tuesday declared Dillon enemy No. 1.
Dillon favors the state's Race to the Top legislation, which would tie teacher pay to student performance and create more charter schools. He's also in favor of a push for state-run health insurance plan for teachers.
"Snyder has experience creating jobs - we have to create jobs and bring business here," she said.
Polls are open until 8 p.m. Click here to find out where to vote.
Reporter Juliana Keeping contributed to this report. Ryan J. Stanton covers government and politics for AnnArbor.com. Reach him at ryanstanton@annarbor.com or 734-623-2529.