Posted on
Sun, Jun 20, 2010 : 11:03 a.m.
Earthworks High School was Ann Arbor Public Schools' experiment with free schooling
By James Dickson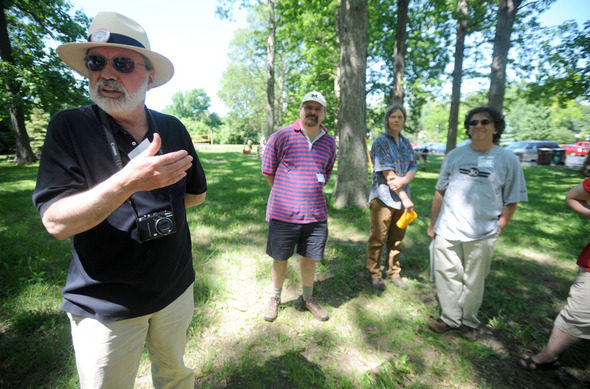 Angela Cesere | AnnArbor.com
Little Lake Free School won't be Ann Arbor's first acquaintance with the free school concept. In the 1970s, Ann Arbor Public Schools attempted a free school experiment of its own with Earthworks High School.
In 1971, Dr. Bruce McPherson was hired as superintendent of Ann Arbor schools, and brought his "schools without walls" philosophy with him from Philadelphia.
McPherson and his team soon learned that a group of teachers at Ann Arbor Pioneer high school, Teachers for Change, already had a plan for just such a school. Their proposal was fast-tracked, and Pioneer II, as the school was first known, held its first classes in October 1971.
School for misfits
Initially, Teachers for Change only wanted to increase educational options for Pioneer students. But as those teachers huddled with the McPherson administration, it became clear that a separate movement within Pioneer wouldn't work.
Teachers got six weeks and free reign to establish their school in the old Fritz Elementary building at 995 N. Maple Roard.
More than 100 students enrolled that first year to partake in the free school experiment. Hundreds of students graduated from Earthworks, as the school was renamed in its second year, in the eight years of its existence.
To a man, Earthworks students interviewed by AnnArbor.com at a recent all-years reunion of the school, reported feeling cut off from the mainstream system, both before and during their time at Earthworks.
Ted Grenier, a class of 1974 Earthworks student better known to WCBN listeners as Arwulf Arwulf, said he was a poor fit in the mainstream school system. But a school offering coursework in Survival, Gay studies, dance improv and Indian history and many others was a much better fit.
"I was thrown out of class once at Tappan Junior High because I refused to do math. I told the teacher, 'I don't do equations, I only do poetry. I needed a school that understood that.'"
Arwulf said that while motivated students used their freedom to grow, others weren't as mature. Like his fellow Earthworks students, Arwulf isn't shy in admitting that freedom didn't work out for everybody.
"Some people couldn't handle it at all," said Arwulf. "The people who got the most out of Earthworks were the ones who were pretty motivated going in."
The dream is over
Earthworks held its final classes in the spring of 1978. Hampered by dwindling enrollment and investment from the district, the school that started as a spinoff of Pioneer was merged into Community High.
Schreiber taught at Community until he left the Ann Arbor school system in 1980.
Had it not been for his concern, a record of Earthworks might not exist today. Schreiber was leaving the Earthworks building one last time when a district administrator asked him if he'd like to take the school's files.
"The district doesn't want them?" Schreiber asked.
"We've got no room," the administrator replied.
Three moves and a few decades later, Schreiber was still lugging the boxes around. In 2006 he decided to turn over the records to the Bentley Historical Library, where they remain under Schreiber's name.
Lasting legacy
Community High School head counselor John Boshoven credited Earthworks for inspiring the Community Resource Program. The school-without-walls philosophy encourages students to look beyond the traditional curriculum for coursework.
"Schools visit us from all over the world to study the Community Resource Program," Boshoven said. "It's a model that's followed nationally."
Earthworks employed a deep network of contacts in the community to fill learning needs its teachers couldn't meet. The Earthworks name has faded from memory - a search for "Earthworks" on the Ann Arbor schools website yields no results - but an important part of its philosophy lives on at Community High.
Advice for Little Lake
There are differences between Little Lake and Earthworks, important ones. Little Lake is private, while Earthworks was a part of the school system. Little Lake plans to start with children ages 4-12, while Earthworks served high school students.
But former Earthworks students still offered these words of advice to the founders of Little Lake: Allowing students to shape their own educational path is nice, but always be willing to lead.
"We had students who came in because they wanted to do nothing," said Schreiber. "And they did nothing."
But students do need space, said Earthworks alum John Barrie. Barrie, executive director of The Appropriate Technology Collaborative, said that he probably would've dropped out if he'd been forced to stay at Pioneer.
The ATC is an Ann Arbor-based non-profit that designs "culturally sensitive" technologies for the developing world, alongside the very people who would use them.
Barrie took an interest in math and found his stride at Earthworks and then the University of Michigan.
"If a kid wants to stare at a bug on a leaf for an hour, let him," Barrie said. "Believe me, he's learning."
James David Dickson can be reached at JamesDickson@AnnArbor.com.