Posted on
Sun, Dec 30, 2012 : 5:58 a.m.
Easier to give than to receive? First-time Warm the Children shopper shares perspective
By Angela Smith
A first-time Warm the Children volunteer shared her experiences with me. She helped three young moms shop for their families, and the experience was evocative of Dickens' "A Christmas Carol." Though she didn't know what to expect, she felt both honored and gratified to be a part of each shopping trip.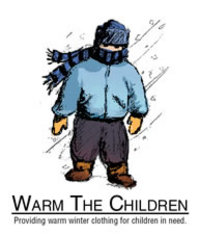 The first mom humbled her. While looking through the racks, the mom expressed her thanks while sharing details of why the shopping trip was especially needed this year. The year had been a tough one, she said. From sickness to hardship, from sadness to loss, there were few bright spots to look back on. The mom thanked the volunteer, and the volunteer walked away wishing there was more that she could do.
Her second volunteer shopping day was later that week.
The second mom reminded the volunteer very much of herself, and was so easy to like. The two shopped and chatted, mostly about the recipient's new job venture. At one point she excused herself to take a call from her boss with pride. After they finished the purchase transaction, the volunteer considered asking the mom to join her for a cup of coffee, just to talk. But the late hour and the thought they were both expected home in time for bedtime routines made the coffee unworkable.
The volunteer's third shopping trip was with a mom who was not as friendly as the two before.
The volunteer tried to be cheerful and offer conversation, but the recipient did not seem interested. The mom kept to herself, and caused the volunteer to wonder what exactly she was thinking about. They quickly finished up the task that needed doing and exited the store, walking off in their own directions.
Just as the volunteer spotted her car, the third mom came running back towards her, calling out. "I forgot to give you this," she said. The mom reached into her purse without a smile, and pulled out an envelope. A thank-you card.
"Even though I couldn't tell at the time, this mom was clearly grateful and struggling with the idea of accepting a gift" the volunteer realized. "Sometimes everyone needs something at one time or other in their life. This experience in human kindness might just be what someone needs, along with the warm coats, gloves and hats."
**************************
Warm the Children shopping trips are still taking place at area Target stores. If you are interested in volunteering, the form here will put you in contact with a coordinator.
Our thanks for this season goes to volunteer shoppers, and to all of the local involvement that makes this program a success. Particularly, we'd like to extend thanks to our donors. Via in-person, mailed-in, and online donations, we are pleased to announce that our local Warm the Children Program has collected $134,443.03 to date.
Our goal is to raise enough money to fund 3,000 recipients in 2013, which will cost $250,000. Please consider donating to help us reach that goal. Our campaign season runs through the end of February, so there is still time to participate in this worthy cause.
Donations can be made online at AnnArbor.com/warmthechildren Donations can be made in person at any at any United Bank & Trust branch in Washtenaw County.
Donations can be made by mail. Use the form here, and send to:
Warm the Children
c/o United Bank and Trust
PO BOX 1127
Ann Arbor, MI 48106-1127

Angela Smith is a freelance writer for AnnArbor.com who is also a volunteer shopper for Warm the Children. She's writing about it weekly during this holiday season.