Posted on
Wed, Nov 14, 2012 : 10:37 a.m.
East Stadium bridges opened for rush hour Wednesday
By Amy Biolchini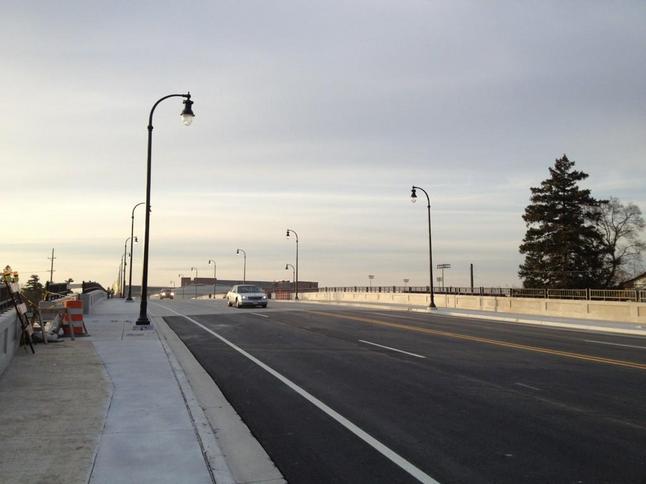 Amy Biolchini | AnnArbor.com
Update: The bridges opened to traffic in both directions about 4:10 p.m. Wednesday.
The rebuilt East Stadium Boulevard bridges are now expected to open by the evening rush hour Wednesday, an Ann Arbor official said.
By 4 p.m. workers had removed heavy equipment and machines from the bridge and a street sweeper had cleaned the bridge deck. Pedestrians and bicyclists were using the bridge. The barricades were still in place, but workers appeared to be preparing to remove them.
Michael Nearing, the city's senior project manager, told AnnArbor.com about 3 p.m. that workers had finished with striping work on the bridge, but still had cleaning work to do before opening the bridge to traffic.
Earlier Wednesday, he said he expected the bridge to open to traffic about 3 p.m. Residents and motorists have long been anticipating the opening of the rebuilt bridges over State Street and the adjacent railroad tracks could be reopened.
Wednesday morning, workers were installing a new traffic signal at the intersection of Stadium Boulevard and South Industrial Highway.
The new bridges replace two crumbling spans that were closed for reconstruction about a year ago.
The opening comes on the exact date officials had planned to have the project finished.
Nearing has said no ceremony will mark the bridges' opening. Instead, the city plans a dedication ceremony in the spring once landscaping and other work is finished.
The city also said motorists can expect lane closures during the hours of 9 a.m. to 3:30 p.m. for the next couple of weeks as workers put the finishing touches on the bridge.