Posted on
Tue, Apr 20, 2010 : 5:56 p.m.
Eastern Michigan University announces '0, 0, 0' plan to freeze tuition, fees
By Ronald Ahrens
Eastern Michigan University students won't feel the pain of state budget cuts next year.
The EMU Board of Regents approved a plan this afternoon amid much fanfare that will freeze tuition and room and board costs for the next academic year.
When the proposal passed unanimously, it was met with much applause from those gathered for the meeting. EMU President Susan Martin unveiled a 0% increase T-shirt at a press conference after the meeting.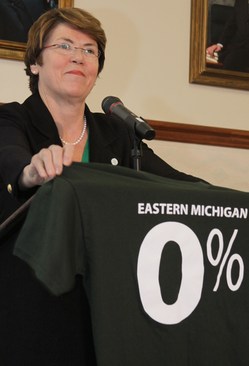 Ronald Ahrens | For AnnArbor.com
While Martin called the freeze "a risk to our bottom line and credit rating at a time of declining state support," she said it must be taken.
"Economic conditions faced by Michigan's students and their families are challenging—the worst I've seen in my lifetime," she said. "This is the right recommendation at the right time."
EMU is labeling the initiative the "0, 0, 0" because no increase will occur in tuition, room and board and mandatory fees.
The goal, officials say, is to boost enrollment and to bolster the university's bottom line. That could help offset a proposed 3.1 percent higher education funding cut the Michigan Legislature is considering.
Martin noted that four-year savings of $4 million in expenditures for utilities have helped EMU bring down overall costs.
Regents said they can't recall a time in the past 30 years when tuition didn't increase.
In the press conference after the meeting, Michigan Senator Randy Richardville, R-Monroe, said he salutes EMU's leadership.
"Thank you for setting an example for the 14 other state universities," he said.
EMU's enrollment grew by 933 students last fall, the first increase in six years. Overall enrollment is approximately 23,000.
Officials expressed confidence the tuition freeze would encourage additional growth. Martin targeted a 3.4-percent increase in enrollment.
A 1-percent increase means $1.4 million in added revenue through tuition receipts, said Regents chairman Roy Wilbanks.
"It's been a big two days for us," Wilbanks said. "Yesterday we had several events to kick off our comprehensive campaign, a $50-milion campaign to help the university. And then today, by holding the tuition down, we're anticipating, obviously, a bigger growth in student enrollment."
The three-year program called "Invest. Inspire. The Campaign for Eastern Michigan University" seeks to raise $50 million for scholarships, programs and faculty. Facilities and endowments will also benefit.
The tuition decision was made earlier than usual this year. Last year, when the EMU Regents approved a 3.8 percent increase in June, they noted it was the lowest increase among the state's 15 public institutions.
That followed a 7.7 percent increase at EMU the year before.
In-state undergraduates at EMU now pay $8,377 in annual tuition and fees.
Martin said the risk in the tuition freeze comes from the fact that "we don't have strong reserves, and we have just borrowed a significant amount of money." 
The $90 million science complex that's under construction is EMU's largest project ever. Renovation of the Pray-Harrold classroom building is also scheduled.
Wilbanks said he's "proud of the construction and the new (campus) look as we go to the future."
At today's meeting, regents also approved the university's $280.9 million budget.
Ronald Ahrens is a freelance writer for AnnArbor.com. Reach the news desk at news@annarbor.com or 734-623-2530.