Posted on
Thu, Aug 26, 2010 : 6:03 a.m.
Eastern Michigan University, faculty union far apart in contract talks
By David Jesse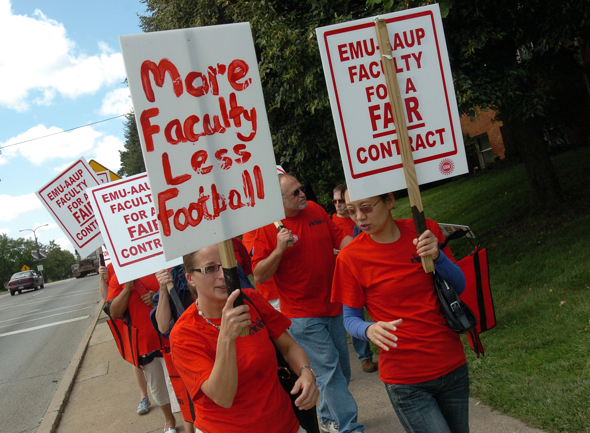 Here's one thing the administration and the faculty union at Eastern Michigan University agree on - the gap between the two of them is pretty wide with less than a week to go before the current contract runs out at the start of the school year.
Here's what they don't agree on - how big a raise, if any, the professors should get; how much the professors should pay for their health benefits; and if the pay for professors should be tied to student enrollment numbers in any way.
And while negotiators plan to spend the rest of the week bargaining, the union has already set a meeting for Aug. 31 at noon that could include a strike vote. The contract for the nearly-700 member union expires on Aug. 31. The faculty union voted Wednesday to let its bargaining team use the threat of a strike during talks with the administration.
Striking is a route the faculty has chosen before. In 2006, faculty struck for five days, prompting the canceling of about 50 percent of classes. Instructors and lecturers who do not belong to the professors' union taught the other 50 percent.
On Wednesday, as about 100 red-shirted faculty marched around the university's administration building chanting their desire for a "fair contract," union officials reminded the crowd of that strike and said that although they don't want a repeat of that, they are willing to strike if necessary.
"The only thing that people in this building understand is you people putting pressure on them," accounting professor and union treasurer Howard Bunsis told the crowd as he pointed at Welch Hall, the administration building.
The union is asking for a 4 percent raise in the first year, a 4.25 percent raise in the second year and a 4.5 percent raise in year three.
According to a chart put out by the administration, the average base salary for a professor is $76,096, while the average income actually paid out as reported on the 2009 W-2's was $87,880 (that includes any extra assignment pay). For administrators the average base salary was $90,478, while the average income actually paid out as reported on the 2009 W-2's for administrators was $84,080.
EMU is offering much-lower raises - no pay increases the first year, a 1 percent raise the second year and a 1 percent raise the third year. In addition, the administration's offer includes a possible 1 percent raise each year if a formula that relies on student enrollment and state appropriation is met.
The administration also proposes to include a provision that would pay a $5,000 salary increase to those who have been full professors for 10 or more years if they undergo an evaluation and meet various criteria.
The union has, so far, rejected the added bonus tied to student enrollment and state funding.
'We don't have any control over either of those," said union president Susan Moeller, pointing out no other peer institutions have a similar program.
Kraft said that's because EMU is trying an innovative program that rewards the faculty as the university gains.
Differing views
As she marched, Robin Lucy wore her red union shirt and held a sign exhorting the administration to spend more on professors and less on the football program that was winless last year.
"I think the offer (from the administration) was insulting and unfair," the English Department member said. "We work hard and support our students.
"They are asking us to take a significant pay cut, when the health benefits are counted in. That's not valuing our work."
Administrators disagree.
"The excellent faculty of Eastern Michigan University have demonstrated their commitment to providing students a high quality education," said Provost and Executive Vice President Jack Kay in a press release. "Enhancing quality is the principle we have taken in formulating our proposal for compensation and non-compensation issues. Our proposal rewards faculty and enables them to share in EMU's success in increasing enrollment."
It's the union who's being unreasonable, administrators say.
"Our salary offers are based on the current economic environment and address the dramatic increases in health care costs that must be considered in any agreement moving forward," university spokesman Walter Kraft said. "The union's salary proposal calling for a more than 12-percent increase over three years is simply unrealistic in today's economic environment."
Union officials also said the administration's health care offer would raise health-care costs for an employee to nearly $5,500 out of pocket a year.
"We are working together in good faith to address the difficult challenges of our increasing health care costs, which rose more than 15 percent last year, from $15.7 million to $18.1 million," said Kraft. Those costs are projected considerably higher this year due to significant medical cost inflation as well as federal health-care reform, which mandates coverage of adult children up to 26 years old, administrators said.
How much money?
A lot of the dispute centers on differing views of how much money the university has to spend.
Both sides agree that there's $74 million in its reserves, which is 24 percent of its total expenses.
Administrators point out that's a lower percentage than Central Michigan University, Grand Valley State University, Ball State University, Kent State University and the University of Toledo. According to charts prepared by the administration, among institutions considered EMU's peers, only Akron and Western Michigan University have a lower percentage of their expenses in reserve.
Union officials point to a financial review done by Bunsis, which shows the university has increased its net assets over the last year.
"The university is in good financial shape," he said. "We want them to do well. We support the zero (tuition increase, fee increase and room and board increase) imitative. It is increasing enrollment.
"We think the university's priorities should be in the core academic areas."
Administrators said they don't believe it's good financial management to use one-time dollars like the money in the reserve to pay for ongoing expenses like salaries. They also said lowering the reserve could affect the university's bond ratings.
Strike looming?
Over the last couple of months, the two sides have reached agreements on a number of smaller issues, largely around various work rules, but now that they are on to the larger financial pictures, the negotiations have slowed down.
In 2006, a fact-finder was brought in after the strike and an agreement was reached well into the school year. That agreement gave professors a 3.5 percent pay increase the first year, a 3 percent raise in the second year, a 3.6 percent raise in year three and a 3.75 percent increase in the final year. Professors also agreed to start paying about $1,000 per year in a premium for health insurance.
No one wants to guess whether or not professors will end up on strike. Instead, both sides said they hope to have professors report to work for various departmental meetings on Sept. 1 and be ready for students on Sept. 8.
"We want a contract on Aug. 31," Bunsis said. "We want to be in the classroom when students arrive. We do not want a job action. That's a last resort, but if it comes to that, we will take that step."
David Jesse covers higher education for AnnArbor.com. He can be reached at 734-623-2534 or at davidjesse@annarbor.com.