Posted on
Tue, Jun 19, 2012 : 11:34 a.m.
Eastern Michigan University hikes tuition 3.95%, sets $290.6M operating budget
By Kellie Woodhouse
UPDATE: Tuition and fee increases and all proposed budgets were given final approval by the full Board of Regents at their afternoon meeting.
An Eastern Michigan University Board of Regents finance committee has agreed to increase tuition and fees 3.95 percent.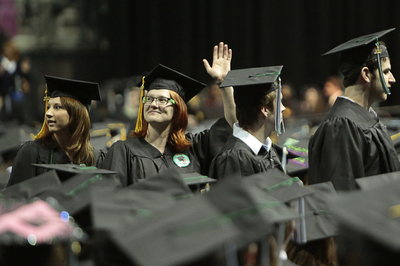 The
increase
is expected to generate $4.6 million in additional funds which, coupled with a slight increase in revenues and a $1.9 million increase in state funding, brings the school's fiscal 2012-13 operating budget to $290.6 million, a $7.3 million increase from the previous year.
"We are all deeply concerned about the cost of education for these students, we truly are," Regent Mike Morris said, adding that EMU is more "aware than most of the amount of debt that students" incur through college.
"We just can't keep zero forever, 3.95 (percent) is well within the bounds of what we need to do to upgrade," he continued.
Regent Thomas W. Sidlik said the hike is essential in order "to keep costs under control."
Though approved by the finance committee, both the increase and the budget must also be approved by the full board at a 1 p.m. meeting today.
The 3.95 percent tuition hike pushes the maximum increase allowable if EMU is to receive additional performance funding from the state based on tuition restraint. Roughly $9 million in state funds will be split among the public universities that keep tuition increases below 4 percent.
Full-time resident undergraduates at EMU will pay $9,026 per year in tuition and fees, up from $8,683. The change amounts to an additional $9.75 per credit hour.
The hike follows a 3.65 percent increase last year, a tuition freeze the year before and a 3.8 percent increase in fiscal 2009-10. In fiscal 2008-09, the school increased tuition 7.7 percent. In five years, resident tuition and fees at EMU has increased from $7,511 to $9,026, a 20.2 percent increase.
"This has not been easy for us, " EMU Chief Financial Officer John Lumm said, also noting that EMU has averaged a 2.5 percent yearly tuition increase over the past three years. "We made a conscious decision to protect students as much as we could."
EMU's $290.6 million general fund budget includes $209.6 million in tuition revenue, $66.5 million in state funds and $14.5 million in other revenues. The school has budgeted for a 1 percent increase in enrollment.
Last year, the school budgeted for a 1.7 percent increase in enrollment, but the total number of credit hours at EMU declined 1.4 percent, contributing to a year-long shortfall problem.
Of EMU's $290.6 million budget, $142.4 million and $53.3 million is set aside for salaries and benefits, respectively. Overall personnel costs at the school are projected to increase 4.4 percent.
The budget includes a $2 million increase in student aid, bringing total EMU-backed scholarship levels to $35.7 million.
Next year's budget includes a significant hike in application fees. Prospective undergraduates will pay $35 to apply to EMU online, up 75 percent from the current $20 fee. Online graduate application fees will increase from $25 to $35.
EMU is projecting $42.1 million in additional revenue from housing and dining fees, up from $40.7 million. The Board of Regents increased housing fees 4.95 percent and school officials predict a 5 percent increase in students living on campus.
EMU is planning to use $2 million of that revenue to renovate Best Hall, Westview apartments, student center furniture and select parking lots.
The committee also approved $21.7 million in capital expenditures for the coming year, including $8.5 million to finish the $90 million science complex and $13.2 million to cover housing facility upgrades and improvements in wireless connection, classroom technology and IT infrastructure.
Kellie Woodhouse covers higher education for AnnArbor.com. Reach her at kelliewoodhouse@annarbor.com or 734-623-4602 and follow her on twitter.