Posted on
Mon, Feb 7, 2011 : 5:59 a.m.
Eastern Michigan University Regent hasn't attended board meeting in nearly 2 years
By David Jesse
Editor's note: The spelling of Mohamed Okdie's name has been corrected.


Eastern Michigan University Regent Mohamed Okdie has been to just six meetings since he was appointed to the university's governing board in November 2007 by then-Gov. Jennifer Granholm.
Okdie, a retired school social worker from Detroit, hasn't been to a meeting in nearly two years, an AnnArbor.com review of meeting minutes shows.
"Commitments to boards like these should not be taken lightly," said EMU Regent James Stapleton. "It's important that people who serve do so to help (their university) — not merely to use it as a resume builder."
Okdie couldn't be reached for comment. EMU's eight regents serve eight-year terms in office and do not receive compensation.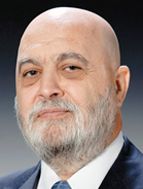 Since Okdie was appointed, 20 board meetings have been held, roughly one a month. Comparatively, two other regents have missed four meetings in the same time period in which Okdie missed 14.
Okdie was appointed to the board in November 2007 to take over the seat vacated by Ishmael Ahmed, who left the board to become the head of the Michigan Department of Human Services.
Okdie was reappointed in January 2009 by Granholm. His current term expires in 2016.
Okdie attended meetings on Nov. 27, 2007, the first one after he was appointed; April 1, 2008; May 18, 2008, when Susan Martin was hired as the university's president; July 30, 2008, Martin's first meeting as president; Sept. 16, 2008, and April 21, 2009.
That means he missed 14 meetings.
During that time, other regents who missed the most meetings were Floyd Clack and former Regent Phil Incarnati, who left the board at the end of December. Both Clack and Incarnati missed four meetings since November 2007, meeting minutes show.
During that time, Okdie served on the city of Detroit's Board of Police Commissioners and ran for Detroit City Council and for state representative. He lost both those races.
Current Gov. Rick Snyder just appointed two new regents to the board — Mike Hawks and Mike Morris. His spokeswoman, Geralyn Lasher, said "it is a priority for Governor Snyder to have participation from appointees as they play critical roles in the operations of our higher education institutions."
EMU's Board of Regents' bylaws don't address removal procedures for a regent.
The state constitution says, "The governor shall have power and it shall be his duty to inquire into the condition and administration of any public office and the acts of any public officer, elective or appointive. He may remove or suspend from office for gross neglect of duty or for corrupt conduct in office, or for any other misfeasance or malfeasance therein, any elective or appointive state officer, except legislative or judicial, and shall report the reasons for such removal or suspension to the legislature."
EMU spokesman Geoff Larcom, who covered EMU for The Ann Arbor News before being hired by the university, said he is unaware of any regent being removed from his office at EMU. However, several have resigned.
David Jesse covers higher education for AnnArbor.com. He can be reached at davidjesse@annarbor.com or at 734-623-2534.