Posted on
Thu, Dec 15, 2011 : 5:58 a.m.
EMU union says several lecturers went without pay for more than a month
By Kellie Woodhouse
Several part-time lecturers at Eastern Michigan University did not get paid until late October while others didn't receive pay increases until then, according to union complaints and university records.
Walter Kraft, EMU's director of communications, said 11 new part-time employees did not get paid until Oct. 20, 52 days after fall semester classes began.
Another three adjunct staff who increased their course load from previous semesters did not receive pay for extra courses taught until early November, Kraft said.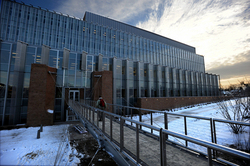 Additionally, Kraft said that early in the semester pay was late for several part-timers due to paperwork issues - either on the part of staff, the university or both - and that "a number" of adjunct faculty who received pay bumps due to a new part-time lecturers union contract approved by the EMU Board of Regents on Sept. 20 did not receive those raises in their paychecks until mid- to late-October.
Kraft said he did not know the exact number of staff that received late paychecks.
Sonya Alvarado and Lisa Laverty, president and grievance officer respectively of the EMU Federation of Teachers, the school's union for part- and full-time non-tenure track faculty, said that dozens of adjunct lecturers did not get paid on time.
"It varied," Laverty said of the late payments. "Some people only missed a paycheck or two, other people weren't paid until the end of October or early November and at that point they'd taught almost until the end of the semester already."
According to EMU's Office of Academic Human Resources, paychecks have been late in previous years as well. In a statement, the office said the number of late paychecks "in fall 2011 was less than any year in recent history."
The office did not say how late paychecks from previous years were.
EMUFT officials met with administrators several times to discuss the late payments and to secure back pay for certain staff, Laverty said.
"I can't tell you how many meetings we had where they gave us reason after reason, but none of the reasons really made any sense," she said.
Alvarado said EMUFT believes the late payments are due to disorganization among EMU payroll staff and departmental human resources staff "at several levels."
"What we found were several problems," she said. "A lot of (administrators) were not keeping up with their paperwork, not being prompt with what they should being doing and (there was) no communication, or there were miscommunications, between the people that should be taking care of the process and the paperwork to get people paid."
EMU human resources stated that 11 staff waited 52 days for their paychecks "primarily due to delays in paperwork processing."
Kraft said paycheck delays at the start of the semester could be due to adjunct staff not submitting paperwork on time, departmental staff not sending the paperwork along to EMU payroll quickly enough or EMU payroll staff not processing that paperwork in a timely manner.
"There's a variety of factors at play," Kraft said, adding that EMU payroll staff experienced "an adjustment period" due to the EMUFT bargaining agreement for adjunct faculty, which was approved by the regents on Sept. 20 and is the first part-time lecturers contract in university history. The union represents about 500 adjunct staff.
"This semester presented a distinct challenge," EMU spokesman Geoff Larcom said. "These administrative challenges can be addressed and fixed and improved upon in subsequent semesters as this (new part-time lecturers) collective bargaining agreement now is in effect."
Alavardo said the recently established bargaining unit gives part-time staff more power to push for a streamlined paycheck system.
"For many of our part-time faculty, this is their living. It's not something that they do just on the side, so there were issues in paying bills and general living expenses for many of these people," she added.
Larcom said payroll glitches that occurred this semester "are going to be systematically studied and improved on."
According to the statement from EMU's human resources office "a compensation matrix was developed and approved for each department to ensure compensation for part-time lecturers" is paid in a timely manner.
In their meetings with Alavardo and Laverty, EMU officials said they would work diligently to refine their payroll process for part-timers. Administrators also promised, according to Alavardo, to offer adjuncts lecturing positions earlier so the paperwork process can begin earlier.
In a hope to solidify those promises, three EMUFT members are planning on testifying before the EMU Board of Regents on Thursday about the late paychecks.
"Past experience has told us that when promises are made that could be very helpful to us, it's better to be very public and transparent about what has happened," Alavardo said. "We feel strongly that we need to make sure that the Board of Regents hear about what has happened."
Kellie Woodhouse covers higher education for AnnArbor.com. Reach her at kelliewoodhouse@annarbor.com or 734-623-4602 and follow her on twitter.