Posted on
Mon, Jun 20, 2011 : 1:04 p.m.
Eastern Michigan University to play major role in Snyder's new statewide system to run failing schools
By Kyle Feldscher
Eastern Michigan University will play a significant role in a new authority established by Gov. Rick Snyder to turn around 200 failing Michigan public schools.
Snyder, speaking at a press conference in Detroit, revealed plans to establish the Education Achievement System, a new, statewide school system that will take over the lowest-performing 5 percent of schools not achieving satisfactory results on a redesign plan or under the control of an emergency manager.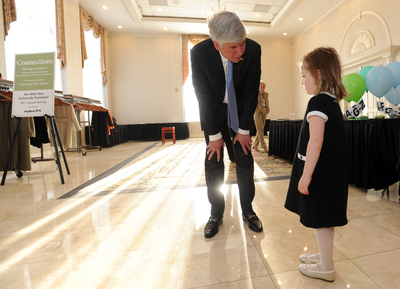 Melanie Maxwell | AnnArbor.com
Roy Wilbanks
, chairman of the
EMU Board of Regents
, said regents would approve the partnership at their regular meeting Tuesday.
"We're eager to play this leadership role and we're well-positioned to do so," Wilbanks said. "Our strength as an institution of higher education … gives us a very strong opportunity to serve the state in this new partnership."
The announcement positions EMU — which Snyder described as an "outstanding leader in teaching" — as an influential player in statewide education reform.
As a part of the new authority, Eastern's responsibilities could include creating a "laboratory or university school" at the site of any public school that has been taken over by the EAS; providing faculty and staff members to assist the new system and failing schools; and conduct employee retraining.
The goal of the EAS is to transform Michigan's approximately 200 failing schools into stable and financially responsible schools.
It's aimed first at Detroit Public Schools — which will transfer its failing schools to the new authority starting in the 2012-13 school year. But it will eventually extend to all failing schools throughout the state, a measurement to be defined by DPS emergency manager Roy Roberts.
The system is structured to give the governor significant control. Snyder will appoint seven of the 11 members of the EAS board, EMU will appoint two and DPS will appoint two. Five Board members, including three of Snyder's appointees, will make up the Executive Committee, which will hire the EAS chancellor.
Snyder described the new structure as "a new way of looking at education systems," giving more autonomy to principals to hire teachers and run their own budgets and significantly reducing overall administrative costs.
U.S. Secretary of Education Arne Duncan, speaking via a satellite connection, praised the effort to revitalize Detroit's school system.
"The status quo isn't good enough, and we are fighting for the future of the city," he said.
Under the new system, employees of failing schools will be given a chance to reapply for their jobs.
Snyder said the new system gives principals "more ability to do things focused on the kids."
"This will get them on the path to success," Snyder said.
Eventually, the new authority could affect schools in eastern Washtenaw County. The current list of the Persistently Lowest Achieving Schools in Michigan includes Ypsilanti High School and Willow Run High School. Both schools are beginning major redesigns in the 2011-12 school year.
State superintendent Mike Flanagan said Monday he's been asked many times why the state doesn't simply take over all 200 failing schools in Michigan. The tricky question that he believes the EAS will answer is, "And then what?"
"This is the what," he said. "This complements the state legislature's action last year," referring to a package of bills signed into law by former Gov. Jennifer Granholm that allowed the state to intervene in the lowest-performing schools, among other actions.
Roberts said the partnership with EMU would allow DPS to work with one of the premier institutions for educating teachers in the state.
"We've signed up to get this done together, and we're excited to work with them," he said.
Snyder also unveiled a campaign to raise private dollars to set up a fund to provide Michigan college scholarships to Detroit Public Schools students. He said the fund would be modeled after the Kalamazoo Promise, a widely publicized initiative in which an anonymous donor provided cash to set up a scholarship fund for students who attended Kalamazoo schools for their entire education.
AnnArbor.com Business News Director Nathan Bomey contributed to this story. Kyle Feldscher covers K-12 education for AnnArbor.com. He can be reached at kylefeldscher@annarbor.com or you can follow him on Twitter.