Posted on
Tue, Dec 8, 2009 : 6 a.m.
Eastern Michigan University's part-time lecturers campaign for union
By Juliana Keeping
Eastern Michigan University's 450 part-time lecturers are one step closer to gaining union representation.
Union organizers filed for an election Wednesday with the Michigan Employment Relations Commission, the state agency that handles union elections.
If half of active adjuncts, plus one, votes "yes" in a subsequent election, all adjuncts would be recognized as part of the EMU-Federation of Teachers, which lists 98 full-time lecturers in its membership, organizers said.
A campaign has been underway at Eastern Michigan University to unionize the part-time lecturers, who are asking for better pay and benefits.
The administration will negotiate a contract in a timely manner if the employees vote to unionize, but students could end up paying for any increased costs through their tuition bills, school officials warned.
More than half of the adjuncts at EMU signed union cards indicating they want an election that would determine their right to negotiate collectively, said David Hecker, president of American Federation of Teachers-Michigan, the umbrella union for the existing lecturers' union, the EMU Federation of Teachers. An adjunct is a part-time lecturer.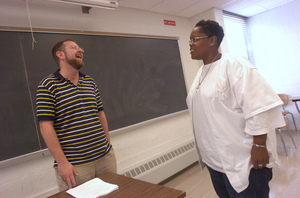 AnnArbor.com | File photo
A spokesman for the adjuncts' 12-member organizing committee said the campaign for union membership is about gaining more respect and better standing at the university, in addition to better pay and benefits.
"Adjuncts are passed over when permanent of tenure-track positions open up," said Riyadh Bahkali, who has taught economics part time at EMU for 10 years. "They are seldom regarded as colleagues by permanent faculty. We get treated like second-class citizens."
EMU-FT negotiated its first contract in 2001 and its latest this past September. Adjuncts would negotiate a separate contract.
The 685 faculty members at EMU negotiate their contract through the American Association of University Professors.
EMU-FT organizer Greg Pratt said adjuncts pushing for the union also want an increased voice over their working conditions and regular comprehensive evaluations.
"Better notice and evaluations, those are the two primary things people teaching at EMU would like to have," Pratt said. "If you think about people at the last minute being thrown into class, who have not taught the class, it's a Herculean task. We have to think not only about the impact on the teacher, but also the students, who are paying a lot of money to learn at EMU."
Russ Larson, assistant vice president for academic human resources, said the administration will negotiate in a timely manner should the adjuncts unionize.
Asked what impact 450 additional union members would have on EMU financially, Larson said it was too early to tell, but noted any increased cost would demand more revenue - and that's likely to come from the students.
"The way we've been raising money for a while is through tuition increases," he said. "The state has not been coming through very well with financing for higher education."
The university's 3.8 percent tuition hike approved this past June was the lowest increase among Michigan's 15 public universities. In-state undergraduates at EMU pay $8,377 annually in tuition and fees. The year prior, undergraduate students experienced a 7.7-percent tuition hike.
The EMU Board of Regents approved the EMU-FT's latest three-year collective bargaining agreement in September that included 1.2 to 2 percent yearly wage increases and a hike in base pay from $27,500 to $30,500. The changes will cost EMU $517,706 over three years.
Currently, adjuncts receive no benefits and are paid per credit hour at the discretion of each department, Larson said.
Kelly Burke, president of the EMU-FT and a geography and geology lecturer, said the EMU-FT has always intended to include adjuncts.
"Our constitution and bylaws have always held that we will work to bring into the collective bargaining unit all of the EMU lecturers as quickly as possible, Burke said. "We had envisioned incorporating everyone who is not a tenure-track faculty member."
Hecker, the AFT-Michigan president, said the union represents adjuncts at Wayne State, the University of Michigan, Western Michigan University and Michigan State University. A campaign to organize adjuncts is underway at Central Michigan University.
Juliana Keeping covers higher education for AnnArbor.com. Reach her at julianakeeping@annarbor.com or 734-623-2528. Follow Juliana Keeping on Twitter