Posted on
Tue, Feb 7, 2012 : 8:45 p.m.
Eberwhite principal issues email to parents about school sexual assault lawsuit
By Danielle Arndt
The principal at Eberwhite Elementary School on Tuesday afternoon sent an email to parents, responding to a lawsuit filed against Ann Arbor Public Schools.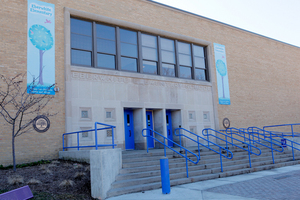 Chris Asadian | AnnArborcom
The lawsuit is regarding two alleged incidents of sexual assault that took place at Eberwhite during the 2010-2011 academic year.
The lawsuit accuses the district of violating an 8-year-old girl's rights by not protecting her from bullying and criminal sexual conduct.
There were four adults assigned to the classroom — one substitute teacher, one student teacher and two teacher assistants — at the time of the second incident, according to the lawsuit.
The teacher also was cited in the lawsuit. It alleges she "did not inquire about what had happened in the bathroom even though the two boys and two girls came out together."
AnnArbor.com obtained this email as it was sent to parents from current Eberwhite Principal Bill Harris.
Dear Eberwhite Parents and Guardians,

Some of you may have seen the article in AnnArbor.com pertaining to a lawsuit based on an alleged incident last year at Eberwhite. The district administration takes this situation very seriously. Student safety is our top priority.

While it may be frustrating please understand, on advice of counsel, that neither I, nor the district administration are able to directly address the allegations or lawsuit. I am, however, always available to answer questions about your child or current safety concerns.

Sincerely,

Bill
Staff reporter Danielle Arndt covers K-12 education for AnnArbor.com. Follow her on Twitter @DanielleArndt or email her at daniellearndt@annarbor.com.