Posted on
Mon, Feb 11, 2013 : 10:01 a.m.
2012 MEAP results: How Washtenaw County schools are improving - or not
By Danielle Arndt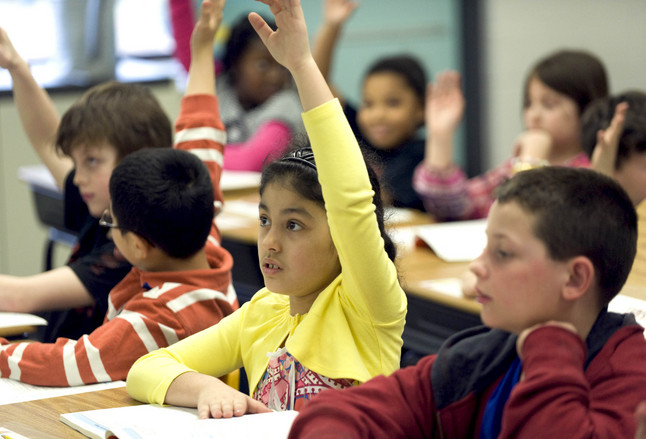 AnnArbor.com file photo
Related:
Proficiency rates on Michigan's annual assessment exam increased in 2012 in all subject areas but science in Washtenaw County's public school districts and charter academies.
However, in general, those districts and charter schools with students performing grossly below MEAP averages in 2011, still have proficiency rates below state averages this year.
The State Department of Education released fall 2012 Michigan Educational Assessment Program test results Monday. The data show Washtenaw County's proficiency gains mirror increases across the state.
A higher percentage of students scored proficient in math, reading and writing on the MEAP than in 2011. Science and social studies scores were more of a mixed bag.
Everyone connected to education in Michigan is welcoming the gains. Last year, MEAP scores took a bit of a dive, when the State Board of Education approved raising the passing rates, or cut scores, on the test to bring Michigan into a more comparable standing nationally.
State Superintendent Mike Flanagan said in a statement Monday the gains demonstrate that Michigan's teachers and students are rising to the challenge of the rigorous expectations established in 2011.
"I am encouraged by the progress we are making in Michigan and look forward to the continued efforts to help all students achieve at a higher level in all subjects," he said. "The good news is most student groups have made substantial progress in mathematics and in reading; their progress actually has narrowed achievement gaps. I have confidence our highly skilled teachers will be able to use this and other data to develop strategies and interventions to help all students, in all subjects, succeed."
Across all grades, the percent of students in Washtenaw County scoring proficient in math increased by 3.4 percentage points in 2012. The largest math gain was in fifth grade, up 5.7 percentage points from 2011.
Ann Arbor Learning Community had the greatest math proficiency increase, 35.7 percentage points in fifth grade. Among the traditional districts, Manchester Community Schools' fifth graders were not far behind, improving their proficiency rate by 26.5 percentage points over last year's fifth graders.
County schools increased their writing proficiency rates by an average of 3.8 percent across all grades. Writing currently is tested in grades 4 and 7, while math and reading are tested in grades 3-8. Reading proficiency rates in Washtenaw County grew by an average of 2.8 percentage points across all grades.
In reading, grades 5 and 6 at Eastern Washtenaw Multicultural Academy had the largest gains in the county, 39.6 and 22.4 percentage points, respectively. Among traditional districts, third-graders in Milan Area Schools posted the biggest gains in reading, increasing their proficiency rate by 19.8 percent.
In writing, Milan's fourth-graders saw the greatest improvement, up 17 percentage points from their below-state-average status in 2011 (36.5 percent) to a higher proficiency than the state in 2012 (53.5 percent).
In Washtenaw County, fewer students scored proficient from last year to this year in fifth- and eighth-grade science, the only grades for which the subject is tested. The rate of students scoring proficient dropped an average of 1.4 percent among the schools. Milan suffered the greatest loss, 11.9 percentage points in grade 8, while grade 5 at Ann Arbor Learning Community and grade 8 at
Dexter Community Schools
saw the greatest gains, 19.9 percentage points and 7.6 percentage points, respectively.
Washtenaw County schools showed an average proficiency rate increase of 1.2 percent in sixth- and ninth-grade social studies, with Manchester having the greatest gain, 14.4 percent in grade 6, and Ann Arbor Learning Community having the greatest loss, 19.7 percent in grade 6.
South Arbor Charter Academy, a National Heritage Academies-managed school in Ypsilanti, tops Washtenaw County's rankings for all schools, including traditional districts, with the highest proficiency rates in the county in seven subject areas. Fifth-grade reading, with 91.6 percent of student's passing, was the charter school's best subject.
Students in the Ann Arbor Public Schools district as a whole did not score below the state average in any category. The district led the county in fourth-grade math and writing with 74.7 percent and 71.1 percent of students passing, respectively.
AAPS saw gains ranging from 0.3 percentage points to about 7 percentage points in all but four subjects and grade levels.
Saline Area Schools also beat the statewide average in every category and led the county more often than any other traditional district. It was the top performer in four categories this fall: third-grade math and reading, 86.3 percent and 69.9 percent proficient, respectively; fifth-grade math, 78 percent; and eighth-grade math, 70.7 percent.
Students at Ypsilanti Public Schools tested below the statewide average in every subject and grade level. Their scores ranged from 3.9 percent proficient in fifth-grade science to 59.8 percent proficient in fifth-grade reading. Students' math scores across all grades averaged 16.5 percent proficient.
Ypsilanti students did make some improvements in third-, fifth- and seventh-grade math and reading, as well as fifth-grade reading, sixth-grade social studies and fourth- and seventh-grade writing. Those gains ranged from 0.1 percentage point to 10.8 points in third-grade math.
In Willow Run and Lincoln schools, proficiency rates also were below state averages across the board, with the only exception being Lincoln's fifth-grade reading results, which show 71 percent of students received a passing score.
Test scores at Willow Run ranged from 4.3 percent proficient in eighth-grade science to 52.1 percent in fifth-grade reading. At Lincoln, the low score was 8.1 percent proficient in fifth-grade science.
Search the MLive MEAP database for your child's school and grade:
Download interactive charts of AAPS MEAP scores by building dating back four years and Washtenaw County's 2012 MEAP data by district and charter school. See how the schools rank from most proficient to least proficient in every subject. Drop-down menus allow for targeted data comparisons by school, grade level, subject and percent increase/decrease from 2011.
Danielle Arndt covers K-12 education for AnnArbor.com. Follow her on Twitter @DanielleArndt or email her at daniellearndt@annarbor.com.