Posted on
Tue, Mar 19, 2013 : 1:41 p.m.
ACLU sends letter to county prosecutor about players charged in Pioneer football brawl
By Danielle Arndt
Previous coverage:
The American Civil Liberties Union of Michigan sent a letter to Washtenaw County Prosecutor Brian Mackie Tuesday asking him to consider "better alternatives" to charging the three black students in the Pioneer-Huron football brawl.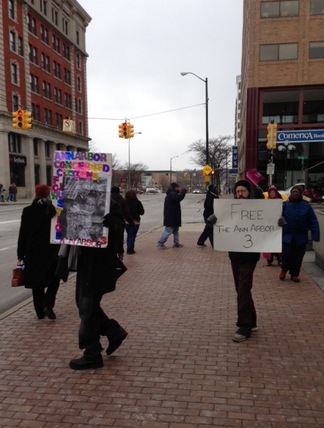 John Counts | AnnArbor.com
The letter was drafted by ACLU attorney
Mark Fancher
and delivered the same day that the students charged in the October melee are
back in court
for various proceedings.
Fancher said in an interview with AnnArbor.com that the organization is not asking for any specific outcome, such as dropping the charges against the youth.
"Our position is … if there are better alternatives, we would strongly encourage the prosecutor to consider those as well," Fancher said. "If he would see it to dismiss the charges, we would applaud that."
He said more than anything, the ACLU is asking Mackie not to handle this case routinely, as he would handle cases for chronic offenders or someone more accustom to being in the court system.
The letter states:
"The ACLU of Michigan does not typically comment on the sufficiency of evidence in pending criminal cases, and we decline to do so now with respect to charges that your office is pursuing… Nevertheless, your decision to pursue charges solely against three African American students did not occur in a historical and social vacuum, and we are compelled to discuss with you the broader implications and consequences of prosecuting only these three out of scores of alleged participants in what many have characterized as a 'brawl.'"
Fancher wrote the ACLU initiates this discussion fully aware that when racial issues are raised, people often accuse others of "playing the race card." However, he said in his letter, race remains a central factor of "alarming statistics," such as the school to prison pipeline, which refers to the correlation between the disproportionate number of black students suspended and expelled from school and the students' eventual involvement in the criminal justice system.
The letter states:
"The pending cases against the three students appear against the backdrop of these stark racial disparities in the schools and the criminal justice system. It is in that context that communities of color consider the institutional dynamics that frequently penalize their youth. The perceptions of unfairness are understandable. Two white coaches trigger chaos on a football field, and dozens of players throw numerous punches, but only three black students end up facing criminal charges. Week in, week out, hockey players pummel each other to the delight of spectators, but meanwhile, three black students end up facing criminal charges for an incident on a football field. In fact, it is not unfair to suggest that it is practically an American tradition not to prosecute participants in sports fights. Yet, in Ann Arbor, three black students end up facing criminal charges. You may have reasons for your decisions that have nothing to do with race or racial bias. However, there is an opportunity here to address the long-held community concerns about the disparate punishment of black youth in this county at a time when area residents are publicly demonstrating their concern about the prosecution of these three young men."
The ACLU of Michigan asks that Mackie meet with them to discuss non-punitive consequences, such as restorative justice practices that may resolve the issue for all of those involved, including the victims, without "forever impacting the lives of these young men," Communications Director Rana Elmir said in an email.
Restorative justice brings everyone impacted by a crime or an action together in a meeting. Fancher told AnnArbor.com, sometimes incidents are the result of a breakdown in the relationship between the offender and the victim. The parties communicate to each other that something has happened and talk about the ways it impacted them.
"It unfolds in a number of different ways, but often what happens is for the first time, the offenders can really appreciate the extent of what they've done," Fancher said, adding: "The victim gets to see that this person they built up in their mind as a horrible monster may have made a bad decision or mistake. … And they can talk creatively about how to make things right."
Fancher said in the case of the Ann Arbor Huron-Pioneer football brawl, these are students who, moments before the fight broke out, were having fun and engaging in a good-natured competition.
"It's not a case where you have people committing a premeditated crime or people hell-bent on creating problems for other people, but rather people who got caught up in a moment," he said.
The ACLU's letter comes a week after the Ann Arbor school board took similar action and passed a resolution also addressed to Mackie. The Board of Education also asked the prosecutor to look at other ways of addressing the students' behaviors, rather than through criminal charges.
At least two community groups have formed in support of the students, two of whom are juveniles and Bashir Garain, 18, who was charged as an adult. One group has organized fundraisers to pay for attorney fees, while the other group is marching and rallying in front of the courthouse this week as the students appear for proceedings.
Danielle Arndt covers K-12 education for AnnArbor.com. Follow her on Twitter @DanielleArndt or email her at daniellearndt@annarbor.com.