Posted on
Thu, Jun 27, 2013 : 5:58 a.m.
Names pending: Ann Arbor school board decides on 7 superintendent semifinalists
By Danielle Arndt
Previous coverage:
After about seven hours of deliberating in executive session Wednesday, the Ann Arbor Board of Education narrowed down its 61 applicants for superintendent to seven semifinalists.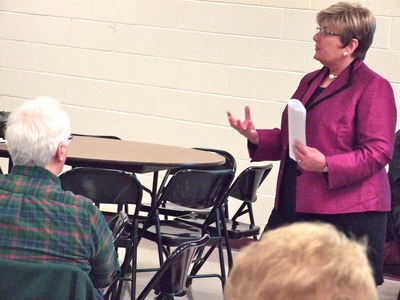 Danielle Arndt | AnnArbor.com file photo
The names of all the candidates and information about them will be released no later than Friday morning, school board trustees voiced in a motion to approve the seven individuals just before midnight.
The individuals' identities were not made public at that time in order to give them an adequate opportunity to notify their current employers that they are being considered for the position. Board president Deb Mexicotte said all of the candidates were contacted, however, and did express they would like to remain in the running.
The board met at 2 p.m. Wednesday at the Ann Arbor District Library for the purpose of discussing contract negotiations with three of the district's collective bargaining units, as well as hearing from superintendent search firm Ray & Associates and going through the top superintendent candidates' applications and reference materials.
Trustees were not finished weighing and vetting the candidates when the board had to start its regularly scheduled 7 p.m. public meeting. So trustees recessed their executive session at 7 p.m. to host the regular board meeting. Then they motioned at about 10 p.m. to reenter executive session, which they remained in until nearly midnight when they reconvened in open session to vote on the seven semifinalists.
According to documents presented by Ray & Associates, 278 individuals contacted or were contacted by the consulting firm about the AAPS superintendent vacancy as the result of the numerous advertisements posted and Ray & Associates' recruitment process. The informal inquiries came from people in 43 states. Thirty of those interested people were from Michigan and 26 of them were from Illinois.
Out of those 278 initial inquiries, 61 candidates completed the application process by providing the required materials to Ray & Associates, the firm stated.
On Monday, Mexicotte indicated the district received 63 applications for the superintendent's position. She said two of the candidates may have withdrawn from consideration.
After screening the 61 applicants based on experience, education and the Ann Arbor Board of Education's list of criteria, the top candidates were given a comprehensive interview by one of Ray & Associates' consultants, documents state. After the interview, a thorough investigation and background check of each candidate was conducted using references, state officials and other school administrators who knew the candidate and his or her strengths and abilities, according to documents.
The Ann Arbor school board will host visits to the district and a first round of interviews with the seven semifinalists during the week of July 7. The interviews are being planned for July 8, 9 and 10. Finalists could be selected as early as July 10. The finalists' interviews have been tentatively planned for July 15, 16 and 17.
Mexicotte said the board intends to schedule a board meeting for July 2 to flesh out more of the interview and superintendent selection processes.
Current Superintendent Patricia Green tendered her resignation on April 11. She will retire on July 9, after two years with the district. She was hired in July 2011 on a five-year contract making $245,000 a year. The next superintendent will earn between $180,000 and $220,000, per a salary range established by the board in April.
Danielle Arndt covers K-12 education for AnnArbor.com. Follow her on Twitter @DanielleArndt or email her at daniellearndt@annarbor.com.