Posted on
Thu, May 9, 2013 : 2:59 p.m.
Ann Arbor Public Schools central administrators agree to 3 percent pay cut
By Danielle Arndt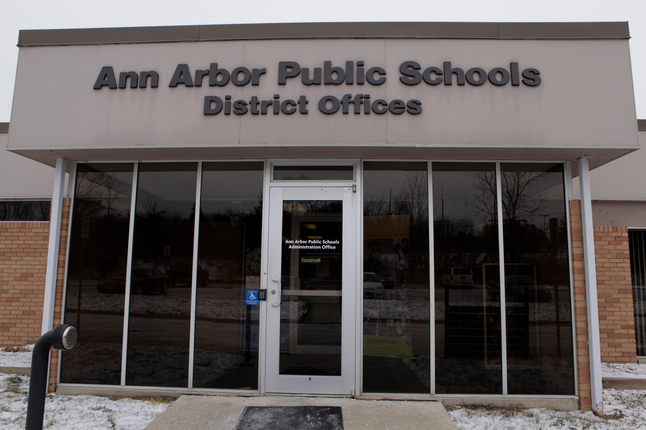 AnnArbor.com file photo
Editor's note: Additional information about the total number of employees who took the 3 percent cut has been added to this article.
Ann Arbor Public Schools central administrators have agreed to a 3 percent pay cut for the 2013-14 academic year, equating to a savings of $114,290.
The administrators who voluntarily decreased their pay include Superintendent Patricia Green's 10 cabinet members, executive secretaries and department directors.
These are unaffiliated employees who are not part of a collective bargaining unit. The only exception is cabinet member and Director of Community Education and Recreation Jenna Bacolor, who is part of the Ann Arbor Administrators Association for principals, assistant principals and some directors.
The salary reduction percentage for Bacolor is not confirmed yet, said district spokeswoman Liz Margolis, adding negotiations are ongoing with the Quad-A union.
Green praised her staff briefly during the superintendent's update at Wednesday's Board of Education meeting. She thanked them for stepping up to the plate to help the district's budget situation. She also apologized for not making their concession known publicly sooner, as the administrators actually agreed to the cut "some time ago," she said.
Figures provided by the district show the 3 percent reduction to Ann Arbor's two deputy superintendents and three assistant superintendents' salaries equate to a total savings of $41,966.
Reductions to the directors' salaries totaled $35,291, and concessions made by the Balas Administration executive secretaries totaled $37,033.
According to school officials, there are seven central administrators, 11 directors and the full-time equivalant of 16.8 executive secretaries and crew chiefs who are paid out of the general fund. So 34.8 central office employees in total took the 3 percent pay cut.
Teachers, paraeducators and office professionals with the Ann Arbor Education Association agreed to a 3 percent pay cut in March. The reduction from the nearly 1,200 union members equated to a savings of approximately $3.4 million for the district.
The Ann Arbor Public Schools needs to cut $8.67 million from its expenses to pass a balanced budget for 2013-14.
Officials targeted salary cuts early on to help balance the budget. Every 1 percent across-the-board pay reduction for district staff was estimated to save AAPS $1.3 million. So if the AAAA also takes a 3 percent pay cut, the district could reduce expenses by $3.9 million.
Other items on the chopping block this year are middle school pools, middle school sports, high school transportation and 80 employee positions, including 53 teachers.
The salary reductions for the Ann Arbor Public Schools staff will take effect for the first paycheck in July.
Danielle Arndt covers K-12 education for AnnArbor.com. Follow her on Twitter @DanielleArndt or email her at daniellearndt@annarbor.com.