Posted on
Fri, Jul 19, 2013 : 7:22 p.m.
Ann Arbor school board votes to offer Brian Osborne superintendency
By Danielle Arndt
Previous coverage:
The Ann Arbor Board of Education has voted unanimously to offer the position of superintendent to Brian Osborne of New Jersey.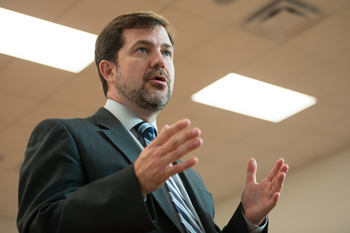 File photo
Osborne currently is the superintendent of South Orange and Maplewood School District. He he's been at the district for about 6 years.
Osborne was selected over Jeanice Kerr Swift, the assistant superintendent of instruction, curriculum and student services for Colorado Springs School District No. 11.
Both candidates were narrowed down from a group of six semifinalists and 61 initial applicants to make it to the final round of interviews. The candidates toured the district, interviewed with the board and had several opportunities to meet with and answer questions from district staff and community members Tuesday and Wednesday.
Read the live blog from the meeting to see what board members said while making their selection:
The meeting started at 5:30 p.m. at the Balas Administration Building.
School board President Deb Mexicotte and a representative from Ray & Associates, the superintendent search firm the district hired, will call Osborne Friday night to formally offer him the position. Mexicotte said the board will expect an answer from him either tonight via phone or "within a day or two."
Danielle Arndt covers K-12 education for AnnArbor.com. Follow her on Twitter @DanielleArndt or email her at daniellearndt@annarbor.com.