Posted on
Thu, Sep 6, 2012 : 2:59 p.m.
Ann Arbor Pioneer principal search down to 2 candidates
By Danielle Arndt
After fielding 41 applications for the Pioneer High School principal's position, Ann Arbor administrators are evaluating two candidates who made it to the final round of interviews, said district spokeswoman Liz Margolis.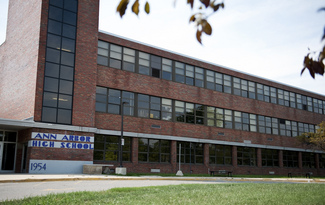 Former Pioneer Principal
Michael White
retired
at the end of the 2011-12 academic year to take a job in Illinois, and Assistant Principal Kevin Hudson is serving as the interim head principal.
In mid-July, Margolis said the principal's position at Pioneer would remain interim for the "foreseeable future," adding she was unsure whether Hudson would remain at the helm for the duration of the 2012-13 academic year. When the position originally was posted, the district looked both internally and externally for candidates.
Margolis said on Wednesday that Green was still assessing the position and a timeline had not been set.
But with the school year now under way, parents and staff want to know what the timeframe is for making a decision.
"Lack of information can be deadly for schools because it leads to a lack of confidence in processes," said Pioneer math teacher Michele Macke.
Macke said in Ann Arbor, staff and school leaders generally try to avoid the infamous "rumor mill," but that's exactly what has happened as the result of the hiring delay.
Macke has served on interview committees for previous hires, both as a parent and a teacher. Her daughter has participated in the process in the past as well. Macke called this year's timeline unusually slow and said it's made a number of parents and staff uneasy. She said it was her impression the finalists' names were given to Superintendent Patricia Green for consideration at least three weeks ago.
"People want to know their administration is competent enough to make a decision in a timely fashion," she said. "At the start of the year, the principal sets the direction. People expected a decision would have been made by now."
Following Wednesday's school board meeting, Green declined to provide a status update and would not confirm how close the administration is to hiring a new principal. She said the position is "still in process" and when a decision has been finalized, it will be communicated to Pioneer parents.
Danielle Arndt covers K-12 education for AnnArbor.com. Follow her on Twitter @DanielleArndt or email her at daniellearndt@annarbor.com.