Posted on
Wed, Apr 17, 2013 : 5:58 a.m.
Ann Arbor principal placed on leave for alleged violation of district's harassment policy
By Danielle Arndt
Carpenter Elementary School Principal Charles Davis Jr. remains on administrative leave while district officials investigate a claim of harassment, documents show.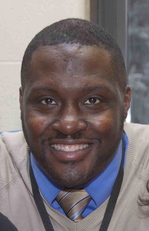 From A2schools.org
In a letter dated March 8 from Human Resource Director
Cynthia Ryan
, Davis was informed of his paid leave of absence, due to allegations that Davis violated
Policy 4020
of the
Ann Arbor Public Schools
Board of Education's policies and "other potential violations."
AnnArbor.com obtained the letter and Davis' personnel file through a Freedom of Information Act request.
Davis could not be reached for comment for this story.
Policy 4020 states that all employees of the district have the right to work in a "professional atmosphere" that "prohibits discriminatory practices, including, but not limited to, harassment." Under this policy, harassment is defined as "verbal or physical conduct that denigrates or shows hostility or aversion toward an individual because of his/her race, color, religion, sex, gender, age, national origin, disability, height, weight, marital status, familial status, sexual orientation, veteran status, or any other characteristic protected by federal, state or local law."
In order to violate the policy, this conduct must have the purpose or effect of creating an intimidating, hostile or offensive work environment; unreasonably interfering with an individual's work performance; or adversely impacting an individual's employment opportunities.
Details about Davis' alleged violation of Policy 4020 are not known at this time.
Davis was still on leave as of Monday, said district spokeswoman Liz Margolis. School officials do not comment on personnel matters.
Documents show a history of concerns and complaints about Davis from teachers at Carpenter.
In a memorandum to Davis dated May 3, 2012, Assistant Superintendent for Elementary Education Dawn Linden summarized allegations that included sharing negative impressions of teachers' job performances with other staff, being dishonest with staff members regarding changes to teachers' grade-level placements, creating a climate of fear and intimidation at Carpenter and making inappropriate comments to colleagues that contained foul language.
In a June 21, 2012, performance evaluation in his personnel file, Davis received an overall rating of "effective." He was scored on 43 performance measures and received an "effective" rating in 35 areas, a "highly effective" rating in one area and a "minimally effective" rating in seven areas. He did not receive any "ineffective" scores.
Linden also recognized Davis' efforts to create a new vision of "becoming exceptional" at Carpenter Elementary in her June 2012 evaluation of his performance.
"As a new principal, you recognized quickly that some things at Carpenter needed to change in order to reach higher standards. ... This new vision shows forward thinking," Linden wrote. "... As the year began, you found, not surprisingly, that some people embraced the change while others resisted it. To make transitions smoother, be strategic about engaging some of these folks in specific committees or tasks."
Linden also congratulated Davis on leading his staff toward an increased use of student achievement data in instructional planning and delivery, for improving grounds and building cleanliness and for reducing the number of student suspensions from 2010-11 to 2011-12.
"Your presence in the lunchroom, halls and other common areas contributes heavily, and your positive relationships with students helps them to feel connected, cared for and encouraged," she wrote. "You are to be commended for this incredibly positive impact."
Davis was rated minimally effective for promoting collegiality and collaboration among staff, maintaining a positive learning environment, involving parents and the community in school activities and modeling respect, understanding, sensitivity and appreciation for all people.
The 2012-13 academic year marks Davis' second year as principal of Carpenter Elementary. Scarlett Middle School Assistant Principal Ed Broom was relocated to Carpenter to serve as acting principal during the investigation. Jaye Peterson, a physical education teacher at Scarlett, is filling the assistant principal's role in Broom's absence, as of March 12.
According to his personnel file, AAPS hired Davis prior to the 2005-06 academic year as a resource teacher at Stone High School — the recently renamed Ann Arbor Technological High School. He spent three years as a math teacher at Stone before teaching fourth and fifth grade at Haisley Elementary School. During the 2010-11 school year, Davis served a stint as interim principal at Haisley, after which he was named principal at Carpenter.
Davis received all complimentary teacher evaluations dating back to December 2005. He was said to meet the performance expectations of the district and his evaluations highlighted a mutual respect between Davis and his students, an expertise at bridging gaps in understanding and instruction for at-risk and struggling students, an ability to work collaboratively with parents and a willingness to share information and problem solve with colleagues.
Davis earns a salary of $96,975 as Carpenter's principal.
Danielle Arndt covers K-12 education for AnnArbor.com. Follow her on Twitter @DanielleArndt or email her at daniellearndt@annarbor.com.