Posted on
Tue, Aug 27, 2013 : 5:58 a.m.
Ann Arbor Public Schools' new superintendent starts Tuesday
By Amy Biolchini
Tuesday marks the first day on the job for the new superintendent of Ann Arbor Public Schools, Jeanice Kerr Swift.
Hired on to a five-year contract in mid-August after a $16,279 nationwide search, Swift comes to Ann Arbor from her former position of assistant superintendent of instruction, curriculum and student services for Colorado Springs School District 11. Her base salary with AAPS is $200,000.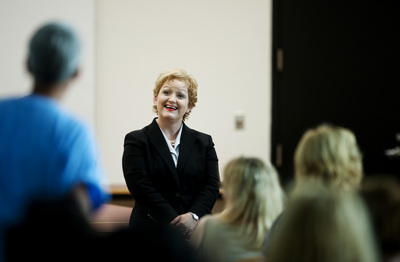 Swift will make her first appearance 8:30 a.m. Tuesday, when she'll be speaking at a kickoff celebration for AAPS teachers at Pioneer High School.
Tuesday Swift will also have paperwork to file and will attend a staff professional development session, said Liz Margolis, spokeswoman for the district.
Swift will also be interviewing the finalists for the Lawton Elementary School principal's position Tuesday. The job has been open for about a month since former Principal Amy Conway resigned to be the assistant superintendent of school improvement for Gibraltar School District located near Detroit.
Margolis said Swift's next full day with AAPS will be Sept. 3—the first day of school.
AAPS initially offered the superintendent position to Brian Osborne—a superintendent of a school district in New Jersey—but he turned down the job and the school board voted 4-3 to offer the job to Swift.
Following former AAPS Superintendent Patricia Green's unexpected resignation at the end of the 2012-13 school year, this marks the fourth time in 11 years that the district has changed superintendents.
Amy Biolchini is the K-12 education reporter for AnnArbor.com. Reach her at (734) 623-2552, amybiolchini@annarbor.com or on Twitter.