Posted on
Mon, Sep 10, 2012 : 9:05 a.m.
Ann Arbor school board member to host monthly coffee hours
By Danielle Arndt
Have concerns about the Ann Arbor Public Schools?
Board Secretary Andy Thomas is ready and willing to hear them.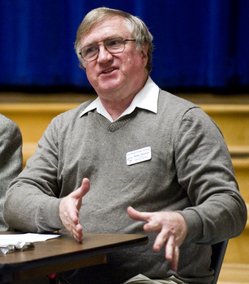 File photo
The school board member will host a monthly coffee hour at various locations around the district to discuss with constituents their ideas, interests and complaints.
Times and dates are up in the air. Thomas plans to wait to see how the first meeting goes before planning others. The first coffee hour will be from 9 a.m. to 10 a.m. Tuesday at Sweetwaters, 123 W. Washington St., in Ann Arbor.
Thomas said this type of informal, open-to-all meeting has been something he has wanted to do since he was elected in 2010. With school starting up again, he saw it as the perfect opportunity to get the concept rolling.
He said the coffee hour is something he's personally doing as a board member to get closer to the community. He is not doing it in his official capacity as secretary of the Ann Arbor school board.
"Basically it's just an attempt to be more accessible and to provide a little more transparency," Thomas said. "Sometimes when you have a one-on-one conversation with people you can get a much better idea of what's going on and their concerns."
The Board of Education permits public commentary at its meetings but per its policy, the 45 minutes it allows is divided among the number of people signed up to comment. Its policy also states members of the board and district employees will not answer questions during public commentary.
Thomas' coffee hours will give the public an opportunity to have a back-and-forth discussion with a school official.
"Board meetings are not the place to engage in an exchange with constituents," he said. "That's what you can get in settings like (a coffee hour) — some exchange. People can ask questions and get a reply and explain things better and so on."
Thomas will be getting the word out about his future coffee dates via emails to constituents and parent-teacher-student organizations.
Danielle Arndt covers K-12 education for AnnArbor.com. Follow her on Twitter @DanielleArndt or email her at daniellearndt@annarbor.com.