Posted on
Thu, Aug 2, 2012 : 7:45 a.m.
Ann Arbor school board praises Superintendent Patricia Green for 'fabulous' and 'ambitious' goals
By Danielle Arndt
The Ann Arbor school board sat wide-eyed, but nodding and smiling, as Superintendent Patricia Green went through her list of goals and priorities for the upcoming school year Wednesday night.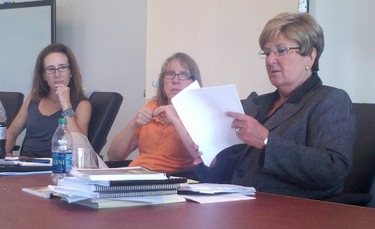 Danielle Arndt | AnnArbor.com
The student achievement piece alone had 21 steps and in total, the list of things Green would like to accomplish in 2012-13 filled five pages.
"I want to thank you for this very comprehensive list," said Board Trustee Andy Thomas. "If we can get to all of these in the next year, well, it's incredible how ambitious this is and the number of areas this is touching."
Trustee Susan Baskett said putting things in writing and documenting what needs to get done is part of what she loves about Green.
The Board of Education met Wednesday at Skyline High School for its annual board retreat. At the meeting, it hashed out both superintendent and board goals.
Although Green's mega list made it easy for the board, the trustees gave their approval with some feedback and suggestions.
One of Green's first goals for the new school year will be developing a calendar of board reports.
Her vision is to schedule the reports for the year upfront. Some will become annual updates, such as a student achievement report, which likely will take place in October for the previous school year, as that gives the administrative team ample time to analyze and process the data, she said.
Green brought with her a number of sample, data-intensive and bound reports from her previous districts for board members to look over, stating she wants the Ann Arbor Public Schools to adopt a similar format for reports.
One of the first reports the board will receive in the new school year is a technology report, which will include a plan for implementing the first year of the district's technology bond, Green said.
Another goal is launching the Peaceable and Respectful Schools student leadership program that she has been speaking about since December. Green said the district was awarded $15,000 from the Ann Arbor Public Schools Educational Foundation for the program. A community member made a donation to the AAPSEF specifically for this student leadership initiative, intrigued by the social justice component of it, Green said.
Alesia Flye, deputy superintendent of instruction, has identified mentors at the high schools who are "ready to roll." The program will involve working with young students to teach them about discipline. Elementary buildings will get a flag to fly outside their schools when they have experienced a day with no discipline referrals or misbehavior. Certificates also will be distributed rewarding the good deeds pupils do, Green said.
"Going deeper" into the parent communities will be a real focus of Green's in her second year as superintendent of AAPS. She mentioned attending more Parent Teacher Organization meetings and the creation of a "Superintendent Parent Liaison Committee," which would be a structured committee of PTO representatives with bylaws that meets monthly with Green and does some "hands on sharing of information."
"This is one of the most successful things I've used in other school districts," Green said. "Often the parents on this committee end up leading the parent advocacy in the community and getting the word out and communicating with other parents."
Vice President Christine Stead cautioned Green a little about starting a Superintendent Parent Liaison Committee.
"I worry that then we will have one other entity that could be driving some of the workload of the administration," she said. "I just want to make sure we are getting work done and when setting priorities, we don't have another group coming in to give ideas. Because I already feel like there are a lot of groups."
Stead suggested perhaps something more "ad hoc" in nature, such as announcing to the community when Green will be visiting a building and letting people know they can stop by to speak with or ask a question of the superintendent — similar to open office hours with a professor in college or coffee hours with a legislator.
Stead said she doesn't want parents to think they have to have been a member of a PTO for five years or so to have access to the superintendent.
Another group Green proposed creating is a "Curriculum Senate" comprised of central administrators, select principals, Student Intervention and Support Services staff and other instruction coordinators. The purpose would be to bring consistency and communication to curriculum reviews and decisions in the district — "to bring all players to the table," she said.
Also among Green's goals for herself and her administrative team are:
Offering other schools Ann Arbor's professional development and legal and human resources expertise as revenue enhancers for the district
Actualizing personalized learning plans, starting with developing the infrastructure and professional development necessary to bring personalized curriculum to the classrooms
Improving the budget process with zero-based budgeting, in which every expense is justified; technology, and a better multi-year budget
Partnering with the University of Michigan to bring in well-known educators and behavioral psychologists for teaching the staff about social and emotional learning
A focus on implementing the district's new anti-bullying policy, which was passed in May
Continuing to put into action her plans for eliminating the achievement and discipline gaps
Carrying out the board's direction with the transportation working group that is analyzing the future of transportation at AAPS
Studying the district's alternative education programs, especially the Roberto Clemente Student Development Center, and other need-based programs to determine their effectiveness
Developing an action plan to increase graduation rates across AAPS
Creating the framework for an observation-based evaluation process for teachers
Danielle Arndt covers K-12 education for AnnArbor.com. Follow her on Twitter @DanielleArndt or email her at daniellearndt@annarbor.com.