Posted on
Thu, May 23, 2013 : 3:24 p.m.
Ann Arbor school board still largely unwilling to budge on $5K food expenses
By Danielle Arndt
Related stories:
Despite a second attempt Wednesday from Board Secretary Andy Thomas, the Ann Arbor school board remained largely unwilling to budge on a $5,000 food allowance for board meetings.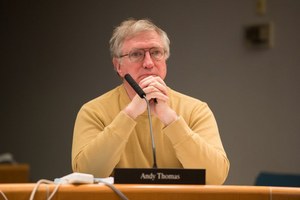 "I think it has to do with leadership. It has to do with sacrifice. If no other board member has any sentiment toward this, I'll let it pass," Thomas said, explaining he felt compelled to suggest the cut one more time.
The Board of Education decided last week to eliminate a $70,000 line item for discretionary spending on food for meetings and events districtwide in next year's budget. However, $5,000 was spared from the cut to preserve spending on food for board meetings and other board-related events.
Vice President Christine Stead said the $5,000 fund also allows the board to provide cookies for student performers at the regular Board of Education meetings, as well as items for legislative panel discussions that the board hosts with state senators and representatives. She said eliminating the food budget "is like saying we're not going to do that anymore."
She said she sees the legislative panels as an important piece of community service that the board and the school district provide because the panels help residents stay informed.
"And I would like to see (the community) stay engaged in this conversation (about the lack of state funding for public education) and not just as a reaction to budget reductions," Stead said, adding some of the money from the $5,000 food budget is used to support the board's role in facilitating that engagement.
Information provided by Communications Director Liz Margolis says for each student performance, the district orders two to six dozen cookies at a cost of $12 to $40. A legislative panel event costs $65 for linen rentals and bottled water. The information also showed some of the funding goes toward an employee recognition program, Celebrations of Excellence, which requires the purchase of a $100 fruit basket for each occurrence.
Stead said the food — which, for 15 people for a regular board meeting costs $80 — is provided by Chartwells and is "about the most cost efficient way" to serve the group. At $80 per regular meeting, the cost per person is about $5.33.
"... It doesn't mean there aren't cheaper options," said Treasurer Glenn Nelson.
Nelson was the only trustee to express a wavering opinion from the first discussion the board had on the topic on May 15. He said after some thought, he changed his mind and would be willing to support some reduction to the $5,000 food fund, but not an elimination.
"I'd be interested in some cut but not to zero," he said.
There was no further discussion on the $5,000 food allowance at Wednesday's meeting.
Danielle Arndt covers K-12 education for AnnArbor.com. Follow her on Twitter @DanielleArndt or email her at daniellearndt@annarbor.com.