Posted on
Thu, Aug 15, 2013 : 5:42 p.m.
Ann Arbor school board to reject combination sinking fund-bond millage renewal
By Danielle Arndt
The Ann Arbor Public Schools' sinking fund millage expires in 2014, and the school board has decided to forgo moving forward with a combination sinking fund-bond proposal and just stick to a straight-up sinking fund millage renewal.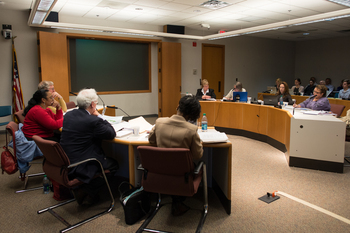 AnnArbor.com file photo
The board on Wednesday favored putting a five-year
sinking fund millage renewal
on the ballot in November's election, but delayed a formal vote until its next regular meeting on Aug. 21. Some trustees expressed wanting to give the public a chance to weigh in on the proposal, prior to a board vote.
The deadline for submitting certified proposal language to the county clerks office for the Nov. 5 election is Aug. 27.
The district's sinking fund levies 1 mill in property taxes to be used toward repairs and improvements of AAPS' physical properties.
The sinking fund millage was last renewed by district voters in 2008. For fiscal year 2014 (tax year 2013), the levy is projected to produce $7.6 million, according to budget documents.
Due to state regulations, the tax money collected in the sinking fund cannot be used for building maintenance or operating expenses, such as employee compensation, furniture purchases, technology purchases and upgrades and other items.
Because of the stringent restrictions on sinking fund uses in Michigan, the board weighed going out for a combination sinking fund-bond proposal that would still levy approximately 1 mill of property taxes, but through both avenues, would allow the district to spend the money more broadly in ways a sinking fund alone could not.
Former Executive Director of Physical Properties Randy Trent recommended the combination bond-sinking fund. Trent's primary reason behind wanting AAPS to go out for both was a need to purchase about $5 million-worth of new desks, tables and chairs, office and lunchroom furniture for the district.
However, after much discussion at Wednesday's regular Board of Education meeting and receiving input from the district's legal counsel, the board decided not to pursue this route.
Interim Superintendent David Comsa said there were some concerns about whether proposal language could be drafted in time for approval, considering a combination bond-sinking fund millage is more complicated, and whether school officials could get with its actuaries about a bond proposal prior to Aug. 27.
With a sinking fund, the levy amount is set and the amount of money that is collected varies from year to year based on property taxes. Also, unlike a bond, the district can spend taxpayers' money as it's collected, rather than borrowing the full amount of the bond upfront from a third-party lender.
With a bond, the taxing entity sets an amount it wants to collect and then the millage rate or the levy varies over the course of the bond to ensure the pre-determined amount is collected.
So the differences in how the levies work also cause the combination bond-sinking fund millage idea to be complicated. Because the district is looking at a short timeframe of putting the proposal on the November ballot, the board expressed that it would be more difficult to educate the taxpayers about the ballot proposal to ensure they understand before November.
Board members expressed not wanting to forget about this combination proposal as an option and possibly considering it again in the future when they have more time to look at it, draft the language and campaign to build voter support.
According to documents prepared by the district in February, Ann Arbor's 2010 sinking fund money has been used district wide for:
Mechanical and electrical upgrades
Key card access system for security
9 roof replacements
16 parking lot replacements
18 schools with ADA (Americans with Disabilities Act) site improvements
10 schools received site improvements
22 schools received new landscaping beds
22 schools received ADA interior signage for classrooms and wayward signs
Danielle Arndt covers K-12 education for AnnArbor.com. Follow her on Twitter @DanielleArndt or email her at daniellearndt@annarbor.com.