Posted on
Thu, Aug 15, 2013 : 5:59 a.m.
Ann Arbor school board votes to rescind fees for 7th-hour classes
By Danielle Arndt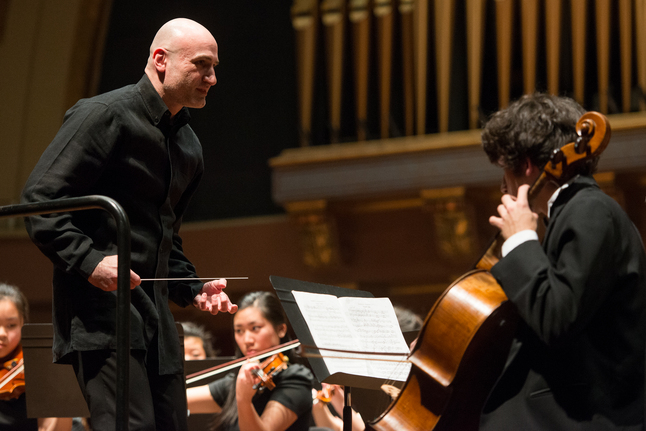 Courtney Sacco I AnnArbor.com file photo
Update: ACLU considers dropping suit against Ann Arbor schools after board revokes 7th-hour fee
Previous coverage:
The Ann Arbor Board of Education voted unanimously Wednesday to revoke the $100 charge it placed on students wishing to take a seventh class period at Huron and Pioneer high schools.
The decision to renege on the tuition-based seventh-hour program came just one week after the American Civil Liberties Union filed a lawsuit against the Ann Arbor Public Schools, contending that the seventh-hour fees deny students a free and equal public education as required under the Michigan Constitution.
The lawsuit was filed in Washtenaw County Circuit Court on behalf of two Pioneer High School music students, Paloma Paez-Coombe, 16, and Elliot Polot, 17, and their parents.
Ann Arbor school board members approved in June charging students the $100 per semester to take a seventh-period course. The move was made in conjunction with a number of cuts and revenue enhancements the board authorized to help AAPS balance its budget and eliminate the $8.7 million shortfall it faced for 2013-14.
The school board Wednesday moved to nix the fees for the upcoming school year and directed its planning committee to take up the topic for further study. The planning committee will come back to the full board at a later date with a recommendation on the tuition-based program proposal.
The motion also authorized the finance department to make an adjustment to the district's general fund budget that allow for an additional $100,000 in fund equity to be spent to cover what AAPS was expected to save by charging students. This will mean that if no other budget amendments are made that require taking money from the district's fund balance, or primary savings account, AAPS could finish the school year with about $5.21 million in savings, roughly 2.8 percent of the district's $182 million operating budget.
Trustee Glenn Nelson first brought forward the tuition-based model for the board to weigh. It was proposed under the recognition that seventh hour is a valuable, yet costly, educational opportunity for students. Rather than eliminate the offering, the board and AAPS central administrators searched for an alternative.
"I appreciate the work of this board and our administration to continue ... keeping the Ann Arbor Public Schools excellent," Nelson said Wednesday during the brief discussion on the motion to rescind the seventh-hour fees. "I am proud we are exploring these options and ... keep turning over stones.
"To me, this motion is a recognition that we need to think this one through a little more before we decide for sure what to do. And I want to both recognize the wisdom and the correctness in that. I also want to say that I'm proud we're the district in the state that takes leadership on these kinds of initiatives," he said. "If one doesn't explore the options, then you're probably not making use of all the options."
At the time of approval in June, Nelson said he "fully expected" AAPS to be sued for enacting a fee structure for seventh hour. However, he said he thought the district would be able to win any legal challenges brought against the action.
"And I think the general consensus is still that we could ... or at least it's that we know we can put things in place (so that) we'd be able to prevail if indeed we decided to move forward with this in the future," said board President Deb Mexicotte.
The school board conducted a closed executive session meeting at 5:30 p.m. Wednesday, prior to the regular meeting at 7 p.m., for the purpose of attorney-client privilege interactions, during which Mexicotte said members discussed the seventh-hour model and the lawsuit.
She said the board came out of that executive session knowing it needed to put seventh hour back on the table.
When asked whether the ACLU lawsuit spurred Wednesday's decision, Mexicotte said it did help "coalesce the conversation" about the seventh-hour fees and what else the district needs to examine having in place.
"We believe we can do this, and we believe we can do this legally under the constraints of the law and the constitution. But we may have to just take a breath and get a couple of other pieces in place before we really can implement it," Mexicotte said.
To some extent, part of the reason the board put the tuition-based seventh-hour program out there was to test what kinds of areas it might have to look at as school officials push forward with exploring these types of learning models, Mexicotte added. Some trustees have said the district could have a need in future years to establish a more "robust" tuition-based learning model.
District officials said they do not anticipate any "scheduling nightmares" as a result of re-implmenting a free-of-charge seventh hour to students.
Officials do not think the seventh-hour fee discouraged very many students who wanted a seventh hour to take a seventh hour, Mexicotte said.
"Those few (students) that may have been discouraged can now opt for that seventh-hour class. And if there were discouraged students that now can opt in, there probably are spots," she said. "We were assured by administration that they will be up to the task of getting those students scheduled."
Danielle Arndt covers K-12 education for AnnArbor.com. Follow her on Twitter @DanielleArndt or email her at daniellearndt@annarbor.com.