Posted on
Fri, Apr 19, 2013 : 5:59 a.m.
Ann Arbor school board members will not debrief publicly on superintendent's departure
By Danielle Arndt
Ann Arbor school board members are on their own if they would like to reflect on Superintendent Patricia Green's untimely departure.
Danielle Arndt | AnnArbor.com
The idea of debriefing on what caused Green to tender her resignation on April 11 was brought up by Trustee
Simone Lightfoot
at
Wednesday's Board of Education meeting
.
Lightfoot would like to know: "What the heck happened?" she said.
Green's announcement that she would be retiring this summer, despite signing a five-year contract with the district and making verbal commitments that she was in it for the long haul, stunned board members and shocked the school community.
Green has been with the Ann Arbor Public Schools for less than two years and earns a base salary of $245,000.
At Wednesday's meeting, the board was tasked with initiating a conversation on how to proceed with launching yet another superintendent search, the district's fourth since 2002.
Early on in the conversation, Lightfoot referenced her military background and said after a mission, there is always a debriefing to discuss "what could have been better, what should be better, who did what when, and how can we do things differently next time?" before moving forward.
Trustees Christine Stead, Susan Baskett and Andy Thomas also expressed seeing some value in this discussion. However, they were conflicted about the best avenue for the discussion to take place.
"Being able to reflect is a good idea," Stead said. "This is a major event for our organization and ... reflecting on the past couple of years before moving forward, I think, is a good step to go through."
Lightfoot asked the district's legal counsel, David Comsa, whether this type of reflection and evaluation was something that could take place in a closed executive session.
"I would rather not all of our conversation be public matter... I'd like for us to have the opportunity to have those ... frank discussions," she said.
Comsa said because of the nature of the discussion, he would not advise it.
"You can have an executive session for personnel matters if the person you are talking about requests that that be done," he said, but added this would be a little different because the topic of discussion would not be related to contract negotiations, disciplinary measures or other adverse actions the board might take. "I would be cautious about doing anything in executive session."
Trustee Glenn Nelson, who had no personal interest in publicly or privately reflecting as a group on the superintendent's departure, suggested the board simply hash it out right then.
"Given my personal goal in wanting to wrap up the (superintendent) profile (for the search firm), I want to get things out of the way that could inhibit that," he said. "So if this conversation has bearing on that, then I want to have it done with before that profile process begins (Wednesday). Because if we don't, it will hold up the profile and hold up the search."
However, Baskett and Thomas were opposed to debriefing publicly. Baskett said in terms of the positiveness and productivity the board wants moving forward with the superintendent search, she felt it would be in the trustees' best interests to meet in small groups for coffee or to have telephone conversations about what the board might have done differently to obtain a different outcome. Thomas concurred.
"I'm glad to share my opinion on this ... but I think it has the strong possibility of spiraling out of control, if we try to have this set as a topic of a meeting," he said, adding the topic has the potential for being very contentious, potent and destructive to the board's goal to attract a new leader.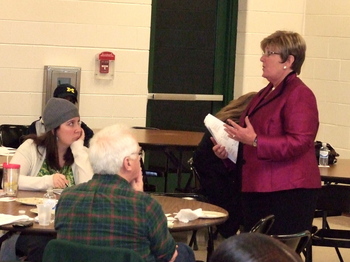 Danielle Arndt | AnnArbor.com file photo
The board agreed trustees could meet in small groups of three or less or speak over the phone to debrief and reflect on what happened. Stead added board members could contact any members of administration, including Green, if they have additional questions about the superintendent's departure or would like to reflect with them on the past two years as well.
Green was quiet during the discussions on the superintendent search process. She declined to comment on her reasons for leaving, the timing of her retirement as well as her perceptions of strengths and weaknesses of the school district. She said she already issued a public statement.
In response to why she dedicated a paragraph of her two-paragraph resignation letter to zero-based budgeting, Green said because she thinks it is really important. Green explained the district's budgets were lacking in detail and moving to line-by-line accountability, the first stage of zero-based budgeting, will improve the district's budget process and allow school officials new ways to find savings.
"I love this district. I believe in this district. (Line-by-line accountability) is the key to financial survivability. I want this district not just to survive but to succeed," she said.
Green added that her emphasis on zero-based budgeting in her resignation letter should not have been a surprise. She said she stressed it in her interview; she has stressed it throughout her tenure at the AAPS, including in her goals and objectives for the 2012-13 school year; and it only made sense to her to stress it as she left as well.
It was past 1 a.m. April 11, when Green gave her resignation letter to board President Deb Mexicotte. The handoff occurred about halfway through a discussion on whether to place a conversation about the Roberto Clemente Student Development Center on an upcoming meeting agenda, Mexicotte said.
A few minutes after receiving Green's resignation and immediately after Vice President Stead finished her remarks about why she supported a separate discussion on the proposal to close Roberto, the board president abruptly called the question, a parliamentary procedure she rarely, if ever, uses.
Calling the question is a motion to end deliberation on a specific topic. It requires a majority vote for approval. The trustees passed the motion to cease the discussion 7-0. It also approved placing Roberto Clemente on an upcoming agenda 7-0.
After both motions passed — Mexicotte hesitating in the second motion for about 18 seconds before voting — the president excused herself for an oddly-timed, 5-minute break.
Mexicotte waited outside the Fourth Floor Conference Room of the Ann Arbor District Library for a trustee to leave the board room for either a restroom or snack break. She said then she told each trustee individually or in groups of two that they needed to stay after the meeting so she could speak with them. Once the trustees had been asked to stay, the president reconvened the board meeting for about 1 minute, 30 seconds before adjourning for the night.
Mexicotte then again rallied one or two trustees at a time and told them the news of Green's resignation.
Mexicotte admitted her behavior for the last approximately 30 minutes of the meeting was unusual.
"I had to evaluate in the moment the best course of action," she said. "And I felt that would be the most appropriate way to handle it... I was thinking that it was important the trustees hear this news from me as soon as possible, but in a way that they could process it and prepare for what was going to be a difficult Thursday."
In the clip below from the final minutes of the April 10 meeting, Mexicotte paused to collect her thoughts for about 18 seconds prior to voting "yes" when her name was called to place the Roberto Clemente topic on the agenda.
She said she had to take a moment to regain her sense of what the board had been weighing, adding she had a lapse in attention following the superintendent's resignation letter.
"I had not been able to follow much of the conversation in the way I typically would ... in trying to determine how to apprise the trustees of what had happened quickly and within the letter of the law," she said. "When it came to me, I had to set myself for a second and collect my thoughts instead on what we were voting on."
Mexicotte added she could not speculate on Green's timing for submitting her letter of resignation.
Watch the clip from the April 10 meeting below, courtesy of CTN Ann Arbor, which records all of the regular school board meetings.
Danielle Arndt covers K-12 education for AnnArbor.com. Follow her on Twitter @DanielleArndt or email her at daniellearndt@annarbor.com.