Posted on
Thu, Mar 28, 2013 : 5:50 p.m.
Ann Arbor school trustees approve document designed to improve board function
By Danielle Arndt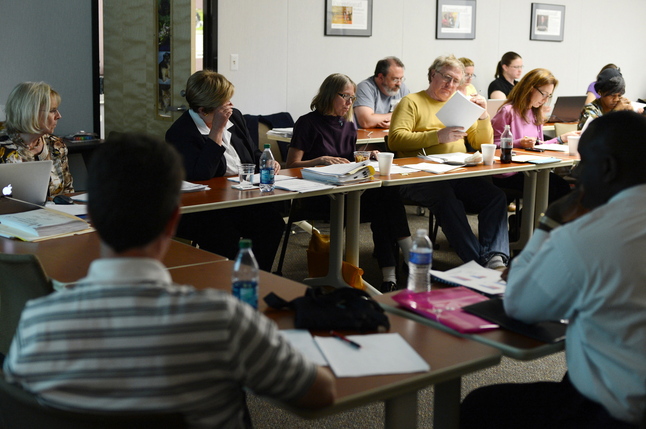 Melanie Maxwell | AnnArbor.com file photo
The
Ann Arbor Board of Education
passed an "affirmation of boardsmanship" Wednesday night, reaffirming what's expected of board members as leaders and recommitting to adhere to certain standards, principles and behaviors at the board table.
President Deb Mexicotte brought forward the document, which she described as a set of standards or a code of conduct, in an effort to help the board operate more efficiently. The statement and some changes to current policies were discussed as ways to curtail lengthy board meetings and to help improve respect and cooperation among trustees.
Mexicotte first floated the idea of an affirmation statement by school trustees in January as a possible inexpensive solution for addressing the board's No. 1 goal for the 2012-13 academic year: improved trust and relationship building among trustees. The board had decided in December it would not hire a facilitator to lead the board through professional development or team-building activities due to cost.
The board set its goal of trust and relationship building at its retreat last August. Some trustees felt the tone on the board was not a positive one. Vice President Christine Stead described it as "passive-aggressive," at that time, and said the board was becoming operationally "settled" with its practice of meeting "to the point of exhaustion or beyond exhaustion sometimes."
Wednesday, Mexicotte said the items in the affirmation statement are all things board members may already know and believe they do. However, she described the affirmation as similar to marriage vows when Trustee Andy Thomas asked how the affirmation would be enforced.
Using the example of her own marriage, she said vows are ceremonial and have no legal binding, but when made before friends and family, the vows were an affirmation of how she and her husband expected to treat each other in their relationship and carried significant weight and value.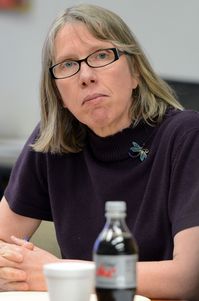 "I'm not marrying you Trustee Thomas," she said with a chuckle. "But I am joining with you in a set of standards or principles that I know is going to be helpful to me as a board member and helpful to the community as they judge my behavior."
Stead said the board should use the affirmation statement in the same way it uses the board policy or the district's strategic plan to guide its work.Taking it out from time to time and referring to it and using it in this manner will make it more real for the board, she said, in response to Trustee Glenn Nelson's concern about the statement being passed by trustees and then "shelved and forgotten about."
Mexicotte said the board has to be willing to enforce it.
"And the enforcement is done through a community standard. It's simply this board deciding we are going to hold ourselves and each other, as peers, to a set of shared values."
Trustee Susan Baskett was skeptical of the document and unsure of its purpose or the good it would do, even after listening to feedback from other board members.
"I don't want to spend much more time talking about it. … I'm not wedded to it one way or another," she said. "But if you all feel good about it, then OK, cool. I'm just not sure what this document is saying."
The statement passed 6-0, with Trustee Simone Lightfoot absent from Wednesday's meeting.
Trustee Irene Patalan said in light of the board recently announcing some budget dialogs and pledging to work together with different parts of the community on the budget, she is more enthusiastic about the affirmation now than she was when it was introduced in January.
"To set a framework and to … say, 'Yes. I will put this as how I live and breathe as a trustee in the Ann Arbor Public Schools,' hopefully this also can (flow) out to the rest of the community as we go through these trying times," she said, talking about how the budget process pits various groups within the district against each other.
"This (affirmation) is specifically about board work, but I actually feel it is a gesture from the people on the Board of Education to set some type of tone and framework as we go through something that is really, really difficult."
Mexicotte said she is grateful for the trustees' support of the document and hopes that, "If nothing else, it won't hurt anything. And maybe it'll even help us a little."
Read the complete affirmation below:
Ann Arbor Board of Education Affirmation of Boardsmanship

As a trustee of the Ann Arbor Board of Education I will do my utmost to represent the district, the community and public education by adhering to the following standards and principles:

I will represent all school district recipients honestly, equally and equitably, and refuse to surrender my responsibilities to narrow interests or partisan political groups.
I will avoid any conflict of interest or the appearance of impropriety which could result from my position, and will not use my board membership for personal gain or publicity. I acknowledge that while I am in office I will always be recognized as a board trustee and will remember to represent the board accordingly. I will strive to model the integrity and professional behavior that our community expects.
I will use district resources only for official district purposes directly associated with my board service or position, or with the support and direction of the Board.
I will respect the time of my fellow trustees, the community, administration and staff, while working closely with the Superintendent to receive information and resources required to do our work.
I will apprise my Superintendent, Board President and fellow trustees as to changes to the agenda, additional items for discussion, or any other information that I think would be pertinent to good governance of the district or to a more productive and responsive board meeting.
I will communicate with my Board peers and administrative staff in any way that promotes and ensures good board practice, adherence to the Open Meetings Act, and the authority of the Superintendent. Should I need to communicate information of any kind to the full board, I will do so through the Superintendent, the Board President or their specific designees, or through individual contact.
I will recognize that a board member has no legal authority as an individual and that decisions can be made only by a majority vote at a board meeting. My individual authority stems from my representation of the community and my joint managerial role to the Superintendent and district.
I will take no private action that might compromise the board, administration, staff, students or families and will respect the confidentiality of privileged information.
I will abide by majority decisions of the board, while retaining the right to seek changes through ethical and constructive means. Using established policy, procedure and advocacy, or working to improve upon them, are the best tools I have to achieve a positive outcome for our students.
I will encourage and respect the free expression of opinion by my fellow board members and will participate in board discussion in an open, honest and respectful manner, honoring differences of opinion or perspective. I will assume good will from my fellow trustees, even if we strongly disagree about substantive issues.
I will prepare for, attend, and actively participate in school board meetings.
I will be sufficiently informed about and prepared to act on the specific issues before the board, and remain reasonably knowledgeable about local, state, national and global education issues.
I will respectfully listen to those who communicate with the board, seeking to understand their views, while recognizing my responsibility to represent the interests of the entire community.
I will strive for a positive working relationship with the superintendent, respecting the superintendent's authority to advise the board, implement board policy, oversee staff and administer the district. I will work through the superintendent when communicating with staff around issues of board concern.
I will model continuous learning and work to ensure good governance by taking advantage of board member development opportunities, such as those sponsored by the state and national school board associations, and encourage my fellow board members to do the same.
I will strive to keep my board focused on its shared goals and vision, as articulated in our Strategic Plan, and on the primary work of clarifying the purpose, direction and goals, and monitoring district performance.
I will always aspire in my speech and actions to achieve the best possible outcomes for our students and to maintain the excellence that the community expects from the Ann Arbor Public Schools.

Submitted by Deb Mexicotte with acknowledgement to the Illinois Association of School Boards.
Danielle Arndt covers K-12 education for AnnArbor.com. Follow her on Twitter @DanielleArndt or email her at daniellearndt@annarbor.com.