Posted on
Wed, Aug 28, 2013 : 3:16 p.m.
Ann Arbor schools recalls all but 2 teachers of 233 given layoff notices
By Amy Biolchini
Editor's note: This story was updated at 3:45 p.m. with additional information.
Ann Arbor Public Schools has been able to recall all but two of 233 teachers that were issued layoff notices at the end of last school year, district officials said Wednesday.
As of one week ago, about 30 teachers that had been given pink slips still had not received word from the district if they would have a job in the 2013-14 school year.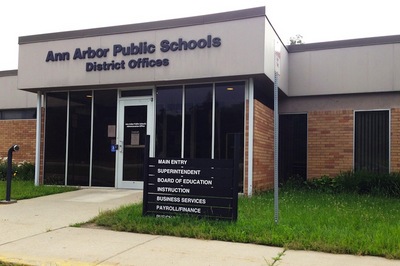 Kyle Mattson | AnnArbor.com
Interim Superintendent
David Comsa
and other district officials have said that they could not guarantee that all the employees given layoff notices would be called back, but that they were hopeful that no employees would be laid off.
The two laid-off employees are the equivalent of 1.2 full-time employees. One is a full-time career and technology educator and the other is a .2 FTE dance instructor.
The two individuals were not qualified to teach any other classes and the district did not have open positions for them, Margolis said. No other employees will be laid off, Margolis said.
Administrative staff for the district have been working around the clock for the past several weeks to match employee qualifications to positions in the district left open by more than 40 retirements. The district received the latest notice of a retirement from one of its employees Tuesday.
Teachers who had received layoff notices have been recalled on an incremental basis as human resources staff have found jobs for them, said Liz Margolis, spokeswoman for the district.
"We're so pleased that we're able to do this," Margolis said Wednesday. "Obviously we'd like to be able to bring everybody back … it's a big relief."
As a part of the new budget approved for the 2013-14 school year, the Board of Education approved a cut of 40 employees, which accounted for $3.9 million—or 45 percent—of $8.7 million in cuts the district made from its operations.
After the 231 pink-slipped employees were matched to the 40 positions that were cut and more than 40 retirements, there are still nine positions within the district that remain empty one week before school begins.
The district posted those jobs Tuesday and will be accepting applications until the first day of school.
Tappan Middle School: .4 FTE French teacher
Scarlett Middle School: part-time science teacher
Scarlett Middle School: social studies teacher
Pioneer High School, Roberto Clemente and Clague middle schools: full- or part-time Spanish teacher
Pioneer High School: math/chemistry teacher
A2Tech and Huron high schools: Full- and/or part-time general science teacher
Skyline High School: cognitive impairment classroom teacher
Full- or part-time school psychologist at a location to be determined
School social worker at a location to be determined
There is a possibility that there will be substitute teachers in classrooms on the first day of school if the positions have not yet been filled, Margolis said.
"We are trying to get these positions in place as quickly as possible," Margolis said.
The district is still accepting applications for noon hour supervisors and custodians for multiple schools, as well as for assistant coaching positions for several sports.
Candidates for the position of principal at Lawton Elementary School were interviewed Tuesday by the district's new superintendent, Jeanice Kerr Swift.
Classes begin Sept. 3.
Amy Biolchini is the K-12 education reporter for AnnArbor.com. Reach her at (734) 623-2552, amybiolchini@annarbor.com or on Twitter.