Posted on
Sat, Feb 2, 2013 : 5:58 a.m.
Ann Arbor woman plans new preschool that boasts child-directed learning, parent participation
By Danielle Arndt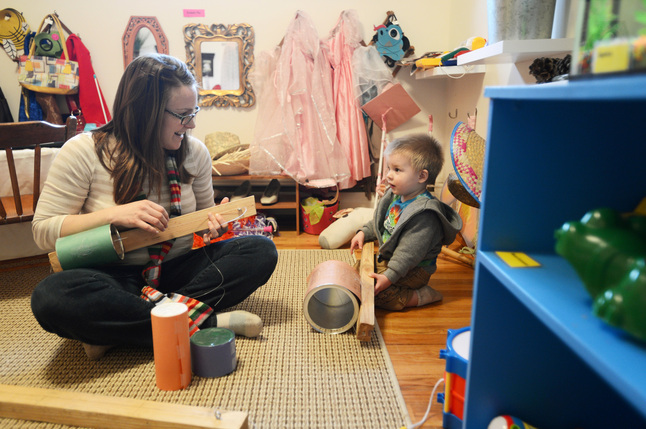 Melanie Maxwell | AnnArbor.com
Looking for a unique, interactive and intimate preschool experience? Ann Arbor parents may have a new option to consider come fall.
Child-directed learning and parent participation are the pillars of Acorn Glen Cooperative Preschool, set to open in September 2013.
Danielle Cassetta, a California native, is in the process of obtaining her child care license from the state of Michigan and hopes to launch the preschool out of her home at 1547 Miller Ave. on Ann Arbor's west side.
During the past several months, Cassetta and her husband, Jered, a social studies teacher at Ypsilanti New Tech High School, have transformed their home and backyard into a preschooler's paradise.
Three garden areas, roaming chickens, a sand pit, mud pie kitchen, "fairy forest" and a hammock-like xylophone now comprise the Cassettas' backyard. Also, once the weather warms up, there will be a sunflower house and play structures.
Inside, all of the rooms are loaded with shelves and boxes of toys, instruments, hand-died pasta and arts-and-crafts supplies. Most of the toys are methodically labeled to promote literacy and to help the preschoolers learn various words.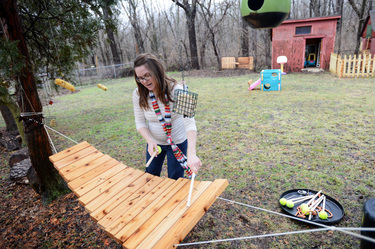 Melanie Maxwell | AnnArbor.com
The cooperative preschool model will involve up to five parents being active in the daily operations of Acorn Glen and helping to ensure a safe learning environment and that children's needs are being met, Cassetta said.
One parent from each family will assist and join in the play one morning per week from 8:45 a.m. until noon. The day of the week is agreed upon by the parent and Cassetta at the time of registration and may depend on space.
Cassetta said Ann Arbor has a number of excellent cooperative-style programs, like Little Lake Learning Community, but what sets Acorn Glen apart is its intimate and curriculum-free environment.
"The difference is the bulk of the day is planned and executed by the children," she said. "… A typical preschool consists of a day where the moment they come into the classroom there is a set of ideas of what will be offered for the children that day. It's planned and adult-directed. And I think you lose a little something when that happens. The children lose the ability to know how to have a voice."
Cassetta said there is so much emphasis placed on kindergarten readiness and raising the bar of academic excellence earlier and earlier these days. Her preschool will allow students to subconsciously absorb academic standards, rather than having them force fed.
"I've always believed that optimal learning happens when there is optimal buy-in on the part of the students," she said. "You can achieve this with adult-directed activities every now and then, if they are really intriguing to the children. But there are casualties to the child when it's a model that is used everyday."
Among the casualties she lists are children's interest levels, diversity of thought, the ability for children to acquire planning or time management skills and the sense of power or fulfillment in learning.
Acorn Glen will accept up to 12 students per class, not including Cassetta's own son, 2-year-old Ian, who will be part of the cooperative. Cassetta and her husband also are expecting their second child in early summer.
Cassetta has five years of experience in childhood development and daycare programs, including as a co-director for It's A Small World in Ypsilanti. Additionally, she volunteered for a year at Ann Arbor Open, helping out in classrooms and during afterschool programs. Cassetta obtained her bachelor's degree in global studies from the University of California, Santa Barbara.
Cassetta's dreams for Acorn Glen began percolating during her internship in 2009 with Rocky Mountain Participation Nursery School, a cooperative preschool in San Francisco. She saw this school as the perfect blend of parent involvement and support as well as child-driven learning.
She is excited about opening a cooperative preschool in Ann Arbor and sees her preschool's philosophy in line with schools such as Little Lake Learning Community, Ann Arbor Open and Community High. Cassetta said she feels a movement could be in the making to offer more authentic and relevant educational experiences to Ann Arbor families.
Acorn Glen is open to the community now in the form of Saturday play-dates. Several open houses will take place prior to September. The next is scheduled for 10:30 a.m. to noon on Saturday. A second open house will be from 10:30 a.m. to noon Feb. 16.
Danielle Arndt covers K-12 education for AnnArbor.com. Follow her on Twitter @DanielleArndt or email her at daniellearndt@annarbor.com.