Posted on
Mon, Dec 31, 2012 : 3:49 p.m.
Ann Arbor's Huron High recognized as a Grammy Signature School semifinalist
By Danielle Arndt
Editor's note: This story has been updated to include information about Pioneer High School.
The foundation that awarded artists Adele and Beyonce six gold-plated gramophone trophies in a single night recently named Huron High School a semifinalist in its Signature Schools competition.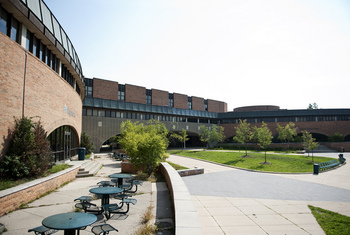 Daniel Brenner | AnnArbor.com
Annually, the
Grammy Foundation
recognizes top U.S. public high schools that have made an outstanding commitment to music education.
The finalists receive $1,000 to $10,000 in grant money to benefit their music programs.
In early December, the Grammy Foundation announced the 129 high schools nationwide that were selected as this year's semifinalists. The finalists will be notified in mid-March.
Ann Arbor's Huron High School was among four total schools from Michigan to be named a semifinalist. The others were Allendale High School, Berkley High School and West Bloomfield High School.
Music instructors nominate their own schools via an online application. The applications are scored by the foundation. If a school is named one of the semifinalists, it must submit additional documentation, such as concert recordings, sample concert programs and repertoire, for consideration, according to the Grammy Foundation's website.
An independent, blue-ribbon committee of top music educators and professionals review the supplemental materials the schools submit.
Huron High School is no stranger to making the Grammy's list of signature schools. It was also a semifinalist in 2000, 2001, 2003, 2005 and 2006.
In 2003, Huron was given the Gold Award, making it one of the top seven high school music programs in the nation.
Pioneer High School also has been named to the Grammy's list of Signature Schools in the past. In 2006, it was given the top award of $15,000 and the title of National Grammy Signature School.
Ann Arbor is highlighted on the Grammy Foundation's website under the overview tab, which describes the Signature Schools program:
"Cuts are being considered in our state and school district, and with this award, the move to make cuts in the music program will be very difficult. As you can imagine, our parents and community are very excited more now than ever, and they have more substance with which to fight any pending cuts," an AAPS music instructor was quoted as saying upon receiving grant money from the Grammy Foundation in 2006.
Danielle Arndt covers K-12 education for AnnArbor.com. Follow her on Twitter @DanielleArndt or email her at daniellearndt@annarbor.com.