Posted on
Mon, Sep 9, 2013 : 5:59 a.m.
Back to school: Some Washtenaw County public schools stabilizing enrollment
By Amy Biolchini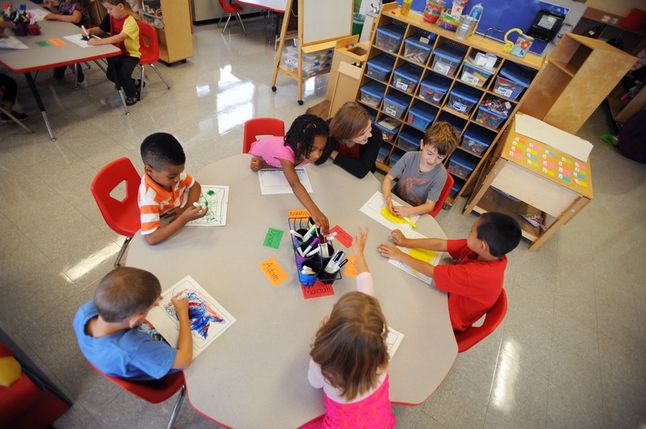 Brianne Bowen | AnnArbor.com
With students
back in school
, districts across
Washtenaw County
have been quickly tabulating
enrollment figures
to adjust class sizes and staffing levels.
Preliminary information shows a stabilizing trend in enrollment at about half of the public schools in the county since last year. However, for districts like Saline Area Schools, stable enrollment is partly a result of more school of choice students.
Saline Area Schools and Lincoln Consolidated School District were the only two public school districts in the county to see a slight increase in enrollment from the preliminary data. Dexter Community Schools estimated a slight .03 percent decrease in its student population as well.
Districts that appear to be losing students include Manchester Community Schools (.93 percent decrease), Chelsea School District (3.21 percent decrease), Whitmore Lake Public School District (4.13 percent decrease) and Milan Area Schools (7.15 percent decrease).
Many charter schools in the county continue to report increased enrollment in double-digit percentages.
Ann Arbor
Ann Arbor Public Schools is projecting flat enrollment this year, said Superintendent Jeanice Kerr Swift. According to state data, 16,635 students were enrolled in fall 2012.
The district declined to release its preliminary enrollment figures for the 2013-14 school year to AnnArbor.com due to its own policy.
"Being a large district, we're still processing," Swift said, noting: "I don't think there's any surprises."
High school staff throughout AAPS are continuing to drop students from their rosters who haven't arrived to class yet for the new year, said district spokeswoman Liz Margolis. It's also the largest district in the county with about four times the number of students as the next-largest district.
Ypsilanti
Registration in the newly formed Ypsilanti Community Schools had reached about 4,000 as of Friday. Students registered in the district in double-digit figures throughout the week, said Superintendent Scott Menzel.
"On the first day, we had 50 students in the high school that hadn't registered," Menzel said. "They continue to trickle in."
District officials budgeted for 4,100 students in the district this school year. Menzel said he's optimistic that YCS will meet that figure.
Last fall, about 3,300 students enrolled in Ypsilanti Public Schools and about 1,400 to 1,500 enrolled in Willow Run Schools, Menzel said.
"We don't know what the fallout might be from consolidation," Menzel said.
Menzel said it's too early to tell how many students have left the district for charter schools.
In the past, districts in Ypsilanti have budgeted for higher student counts and then had to make staff adjustments when there weren't enough students, Menzel said.
For YCS' first year of existence, Menzel said the district budgeted "very conservatively…so that if we had more students we could add staff instead of telling teachers that we didn't have enough students."
There are still open teaching positions within Ypsilanti Community Schools due to teachers resigning the week before school started, Menzel said.
"From my perspective: most things have gone pretty well for the first week of school, and for launching a new consolidated district it's gone pretty well," Menzel said.
Challenging the district in its first week, besides the 50 students that arrived at Ypsilanti Community High School on the first day and hadn't registered, were delays of 30 to 45 minutes on school buses on the first day of school.
"A lot of things are still in flux with respect to transportation," Menzel said.
Saline
Early estimates show that enrollment at Saline Area Schools increased by 1.28 percent to 5,316.
"We feel like our enrollment is going to be in the neighborhood of where it was last year," said Steve Laatsch, assistant superintendent of instructional services, Saline Area Schools. "We haven't lost a significant number of students."
Larger class sizes at Saline High School of about 450 students have graduated out of the district and smaller class sizes of about 335 are entering kindergarten, Laatsch said.
The gap in class size would have meant that the district would lose money because the state allocates money on a per-pupil basis, but the district has been mitigating the loss of students with school-of-choice spots, Laatsch said.
More than 50 kindergarten openings were filled by school-of-choice students.
In general, the number of students in the district that fill school-of-choice spots has increased, Laatsch said.
"We've had quite a bit of interest this past summer and past spring in people wanting to do school of choice in the district," Laatsch said.
Generally, school-of-choice students come to Saline from Ann Arbor, Lincoln, Milan and Ypsilanti districts, Laatsch said.
"Our overall goal is to try to maintain the current population in the school district," Laatsch said, noting that it allows the district to continue to offer a variety of programs to its students.
The official "count day" for students in school districts across Michigan is Oct. 2. The data is used by the state as a major factor in determining the per-pupil foundation allowance that each district receives. Foundation allowances account for the majority of a school district's operating revenue.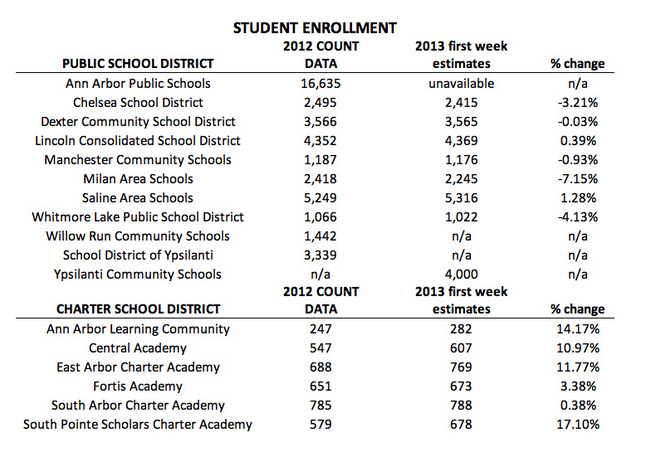 Amy Biolchini is the K-12 education reporter for AnnArbor.com. Reach her at (734) 623-2552, amybiolchini@annarbor.com or on Twitter.