Posted on
Fri, Nov 5, 2010 : 12:40 p.m.
Communications, media, public policy magnet program challenges students in new ways
By Shoham Geva
Shoham is a sophomore at Skyline High School enrolled as a first year student in the Communication, Media, and Public Policy magnet, with a strong interest in journalism. She is writing this column both to showcase the CMPP magnet, and to express that interest. She'll write a weekly column on the program.
Computers are whirring, and people are talking in attempts at hushed tones. Off in the corner, a printer is delivering fresh copies of organizational charts and budget analyses. In another room, boom mics are hefted, and cameras are readied.
No, this isn't a business office or a television studio. This is a classroom in Skyline High School, a part of the CMPP magnet program.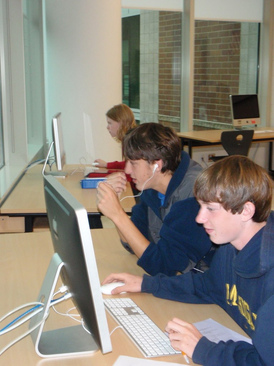 A magnet is an elective enrichment program, the like of which is not available anywhere else in Ann Arbor. There are four of them at Skyline; Design Technology and Environmental Planning, Health and Medicine, Business, Marketing and Information, and CMPP. CMPP stands for Communication, Media and Public Policy.
This, along with the other magnet programs, is its second year. The magnet programs start in sophomore year and end senior year with a special endorsement on the diploma.
During freshman year at Skyline, students get a week to explore each of the four magnets through in-classroom activities. Once that week is over, they have the chance to put their name in a lottery. Names drawn from the lottery determine who gets the chance of being in a magnet.
There are 54 students enrolled in CMPP; 26 are juniors, and 28 are sophomores. This year, the program would optimally be at 50 students, with 25 from each grade, says Pat Jenkins, the teacher in charge of CMPP. This number, she says, is best in terms of managing the work required to find internship placements and monitor on-the-job performance for the senior year.
Students in the CMPP program receive a specialized course of education over the three years they're in the program, culminating in a capstone project and/or internship. During the first year they're in the program, they receive an intro to the world of public policy through real life problems currently affecting our clients, the city of Ann Arbor and Washtenaw County. By the end of this trimester, each student will have produced a public service announcement about one of the energy programs operated by Ann Arbor or Washtenaw County, a project that starts by by going through all the steps of policy analysis on the problem.
During the second trimester, sophomores learn about media literacy, getting more familiar with the various forms of communication and how they're employed to affect change. This prepares them for their next year in the program. As juniors, they explore broadcast communication, a.k.a the legalities of broadcasting and streaming information/video in the 21st century. They also develop their video production skills, learning about things like lighting kits, camera angles and the importance of audio.
During senior year, in addition to internships and capstone projects, the students will look at how decisions are made in the world of bureaucracy, as well as opinion polling and how it affects policy decisions.

The computers have been shut down, the printer has come to a halt, and boom mic and camera are resting in their places. A bell rings, and the students leave ... because this is still a school, not their jobs.
Not yet, that is.