Posted on
Wed, Apr 24, 2013 : 5:58 a.m.
Community pushes Ann Arbor school board to 'go local' for next superintendent
By Danielle Arndt
The Ann Arbor Board of Education has received dozens of emails and phone calls urging it to look locally for a new superintendent.
Amid a community clamoring for an internal candidate, at least one name has emerged: Roberto Clemente Student Development Center Principal Ben Edmondson.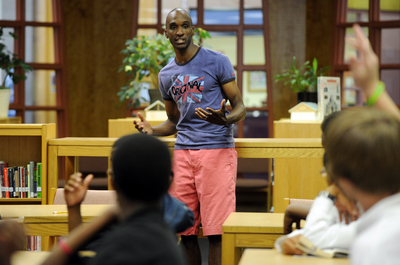 Melanie Maxwell | AnnArbor.com file photo
"He commands respect and he expects everyone to rise up to their personal best," said
Ann Arbor Public Schools
parent
Debbie Harris
. "He has been placed by superintendents at struggling schools for those very reasons."
The board is meeting at 5 p.m. Wednesday, April 24 at the Ann Arbor District Library to develop a profile for its next superintendent, which is expected to include a candidate's experience, qualities and characteristics, and a salary or salary range for the position.
Board Vice President Christine Stead said she personally has received a handful of emails asking the board to look locally, if not internally, for a new superintendent since Patricia Green tendered her resignation shortly before 1:30 a.m. April 11. Stead said she also has received more than 100 emails regarding Edmondson.
She said other names have been floating around and brought to board members via email or phone, but not as a concerted effort.
Stead said the quick support for Edmondson could be because the Roberto Clemente group is "somewhat mobilized already," since moving the program from its existing location was presented as a proposed budget reduction in December.
The Board of Education has not set many parameters yet for its upcoming superintendent search. At an April 18 meeting, the board decided on a short timeframe for its quest, to try to yield a new superintendent by September.
The board also voted to contract again with Iowa-based consulting firm Ray & Associates under a "satisfaction guarantee" that's still in effect from when the firm helped the board hire Green. The clause will result in the search costing the district only those expenses incurred in travel, lodging and food costs for consultants and the superintendent candidates that the board could invite to Ann Arbor for site visits later in the selection process.
According to officials with the Michigan Association of School Administrators, there are approximately 15 superintendent vacancies within the state of Michigan right now. There also are another five positions that recently were filled.
Dick Dunham, who is the executive director of superintendent search services for the Michigan Association of School Boards, said despite the shifting climate for education in Michigan, he has not seen the qualities that a board looks for in a candidate drastically change in the past four or five years.
"It varies from district to district, but largely everyone is looking for a strong leader with an emphasis on education who understands finance," he said.
Generally speaking, a district's profile will vary the most based on the school system's previous superintendent experience, he added.
"If you have a district with a history of long-sitting superintendents ... and it ends on good terms where, say, the longtime superintendent retires, then the board wants someone exactly the same," Dunham said. "If you have a turnaround district, where the superintendent is coming in to transform something, they usually don't last very long. You have to make some tough decisions and then you're moving on."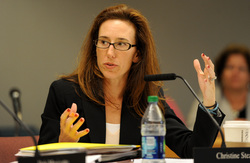 Jody Huhn is a mother in the district, who started a movement for internal candidates at Thurston Elementary School.
An email she sent out to staff and parents school-wide encouraging them to write to the Board of Education about "going local" with its search has picked up speed and resulted in many Thurston community members sending emails to the board and sharing Huhn's letter on social media.
"I'm writing to you today to enlist your help once again to deliver a message from the parents of our community to members of the AAPS school board that no talent be overlooked, especially that from within our own district," Huhn wrote in her request to the community.
"Although I am certain that talent exists outside Ann Arbor, I truly feel that our best hope for the future is with a superintendent who brings with him or her, a vested personal interest in our school system. Just as we are encouraged to 'shop local' for our groceries, the school board needs to strongly consider the value of shopping locally for Dr. Green's replacement."
Simone Lightfoot is one school board trustee who has publicly stated she supports and is in favor of promoting from within.
Another Thurston parent, Margaret Weiss, said she would like the board to hire an internal candidate because Ann Arbor needs someone who is committed to the community, possibly has kids in the district and is willing to take on the challenges it faces, while also listening to and communicating with AAPS' teachers and parents.
"We need someone who can work with everyone... And I have no worries about paying a superintendent a good salary as long as they're really doing a good job for the school system," Weiss said. "... Dr. Green was very hands off and somewhat combative. I'd like to have someone more open. To me, it doesn't make sense to cast a wide net because I feel there are so many qualified people already right here."
Harris agreed.
"We need someone who knows our community, knows our most immediate issues and knows the culture and climate, so they can hit the ground running," she said. "We don't have time to search nationally again and then to allow time for that person to acclimate. We have urgent issues facing our district; we have a budget that needs passed, administrative leadership positions that need filled and, not to mention, a serious morale crisis."
Dan Salamone, a former AAPS transportation employee who worked for the district in the 1990s, said he sees an internal candidate who is invested and "has roots" in Ann Arbor as being the solution to the district's high superintendent turnover. This will be the AAPS Board of Education's fourth superintendent search since 2002.
Salamone also does not support spending any money to fly-in or pay for consultants or superintendent candidates, given the district's budget cuts year after year, he said.
Prior to becoming the principal at Roberto Clemente, Edmondson served as the principal of Scarlett Middle School, a building, like Roberto, that has low test scores and a high percentage of economically disadvantaged students.
A Change.org petition was created in support of Edmondson. It had 56 signatures as of Tuesday evening. Edmondson said he is aware of the petition and is humbled by the effort.
"It is nice to know people appreciate the work that I've done… but at this very immediate time, I am in the fight of my life to save the Roberto Clemente program as intended," Edmondson said.
He declined to state whether or not he is interested in the position.
Harris, who is among those leading the campaign for Edmondson, said the principal did not solicit or in any way initiate the petition. She and other parents who thought he would be a good fit contacted him to ask if he objected to them putting his name forward.
Despite Stead's presumption, many of Edmondson's supporters appear to be from outside the Roberto Clemente school community, such as Carroll Caudill Jr., a social studies teacher at Scarlett, who called Edmondson "a breath of fresh air."
"He was honest, consistent, supportive and held us to a high standard," Caudill said in an email statement.
Danielle Arndt covers K-12 education for AnnArbor.com. Follow her on Twitter @DanielleArndt or email her at daniellearndt@annarbor.com.