Posted on
Wed, Jul 17, 2013 : 6:14 p.m.
Community Q-&-A: Superintendent finalist Brian Osborne in the hot seat
By Danielle Arndt
Ann Arbor Public Schools superintendent finalist Brian Osborne will answer questions from the community Wednesday night in a public forum, and AnnArbor.com will be covering it live.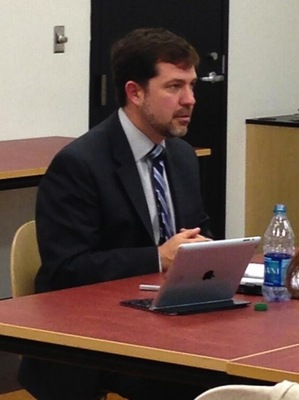 Danielle Arndt | AnnArbor.com
Osborne, superintendent of
South Orange and Maplewood School District
in New Jersey, is one of two candidates who advanced to the final round of interviews in Ann Arbor's search for its next superintendent. Former Superintendent
Patricia Green
retired last week after two years with AAPS.
The other finalist, Jeanice Kerr Swift, an assistant superintendent from Colorado Springs, completed her interview and public Q-&-A session Tuesday. The Board of Education is expected to name either Swift or Osborne as the next top official of the Ann Arbor schools at 5:30 p.m. Friday.
Osborne spent Wednesday touring the district and meeting with key staff, parents and community members. At 1:15 p.m., he had his final interview with the school board and presented his 90-day entry plan for how he would spend his first three months in the district if selected to assume the role of superintendent.
The community Q-&-A session with Osborne will begin at 7 p.m. in the Skyline High School Media Center, 2552 N. Maple Road, on the third floor. Follow along with the meeting in the live blog below.
Danielle Arndt covers K-12 education for AnnArbor.com. Follow her on Twitter @DanielleArndt or email her at daniellearndt@annarbor.com.