Posted on
Wed, Feb 20, 2013 : 1:51 p.m.
Database: Ann Arbor Public Schools' Patricia Green is No. 1 highest-salaried superintendent in Michigan
By Danielle Arndt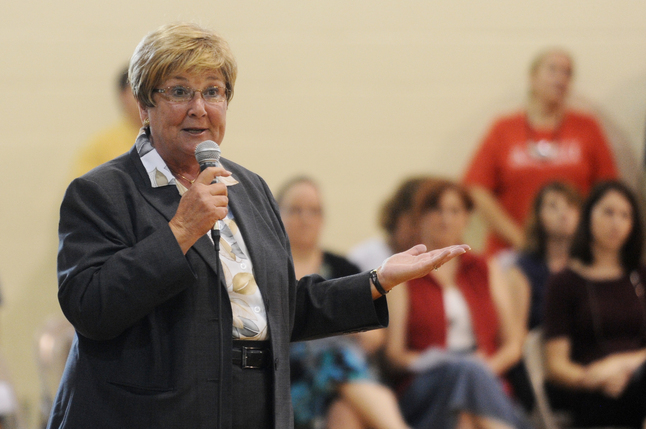 AnnArbor.com file photo
Ann Arbor Public Schools
' second-year superintendent,
Patricia Green
, is the No. 1 highest-salaried superintendent in the state, according to a new
database
released Wednesday.
The Mackinac Center for Public Policy, a free-market think tank, compiled the total compensation and current contract information for about 570 conventional and intermediate school districts in Michigan. The center ranked districts based on total compensation, salary, insurance benefits, pension, annuity, travel and other allowances.
"Looking at superintendent compensation is important," Michael Van Beek, director of education policy for the Midland-based think tank, told MLive. "It is a relatively small amount (about 1 percent) of what public schools spend in general, but it is important just because it's the figurehead of the school district. So I think the public should have easy access to this information."
School districts are required by law to post some of the information on their websites, the MLive article states, but the center's new database makes it easier to compare this information. It also includes the number of sick and vacation days and links to employment contracts for most of the superintendents.
Ann Arbor's Green, who was hired prior to the 2011-12 academic year, is paid a salary of $245,000. The database shows this is nearly $33,000 more than any other superintendent in the state. Rounding out the top five highest-paid superintendents with Ann Arbor is the Oakland Intermediate School District ($212,183), Genesee ISD ($210,000), Troy ($204,793) and Rockford ($204,496).
Green ranks No. 7 in total compensation. She receives a pension of $22,925 and insurance benefits worth $5,626, bringing her total compensation package to $273,551.
Ann Arbor Public Schools is the sixth-largest district in the state based on its total enrollment, which according to the database is 16,668 students.
The districts ranked above AAPS in superintendent total compensation packages are Utica ($300,789; 29,541 students), Rockford ($290,445; 7,975 students), Kalamazoo ($280,468; 12,471 students), Farmington ($277,867; 11,763 students), Wayne-Westland ($273,875; 13,031 students) and Troy ($273,615; 12,125 students).
The Utica superintendent has served in her role for seven years; Rockford's superintendent has been at the helm for 24 years; the Kalamazoo superintendent has been in the role for nearly six years; Farmington's superintendent has been an employee of the district for 24 years and superintendent for seven; and Troy's superintendent has been in her position for nearly eight years. Wayne-Westland school officials could not be reached due to the district being on mid-winter break.
The statewide average salary is about $115,000, while the statewide average total compensation is about $155,000. All of the school districts in Washtenaw County, except for Manchester Community Schools ($113,500), pay their superintendents more than the state-average salary.
Manchester's total compensation package is $175,890, the sixth highest in the county, according to the database. The Washtenaw County school districts that compensate their superintendents at amounts below the state average are Milan, Dexter and Lincoln.
Ypsilanti Public Schools Superintendent Dedrick Martin has the second-highest total compensation package in the county, behind Green at AAPS. Martin receives a salary of $126,000, $22,925 in a pension, insurance benefits worth $24,431, a travel allowance of $3,600 and "other" allowance of $900, according to the database.
Martin's insurance benefits package is the largest in the county.
Laura Lisiscki, Willow Run Community Schools' superintendent, is paid a salary of $120,000 and receives a total compensation of $168,053, the seventh highest in the county. Her compensation package includes insurance benefits worth $10,538, a pension of $24,315, $3,600 travel allowance, other allowance of $1,200 and an annuity of $8,400.
Per the Mackinac Center's database, Lincoln Consolidated Schools' Superintendent Ellen Bonter receives the smallest compensation package in the county: a salary of $130,000 and insurance benefits worth $8,234, for a total compensation package worth $138,234.
Bonter's salary is the fourth largest in the county, behind Ann Arbor, the Washtenaw ISD ($157,500) and Milan ($134,266). Dexter Community Schools' superintendent earns the same amount, $130,000.
Lincoln currently is the third-largest district in Washtenaw County with 4,741 students. Saline Area Schools, the second-largest district with 5,331 students, pays Superintendent Scot Graden a salary of $125,000, the fourth lowest salary in the county.
Graden's total compensation package is $157,328, with a travel allowance of $6,000, other allowance of $6,500 and insurance benefits worth $19,828, according to the database.
Whitmore Lake Public Schools, the smallest district in the county with 1,171 students, has the third-highest superintendent total compensation package in Washtenaw County: $181,215. The package is comprised of a salary of $124,223, insurance benefits worth $20,159, an annuity of $6,211 and a $30,622 pension.
Danielle Arndt covers K-12 education for AnnArbor.com. Follow her on Twitter @DanielleArndt or email her at daniellearndt@annarbor.com.