Posted on
Tue, Jun 18, 2013 : 5:58 a.m.
Forum on K-12 funding: Education must be a non-partisan issue
By Danielle Arndt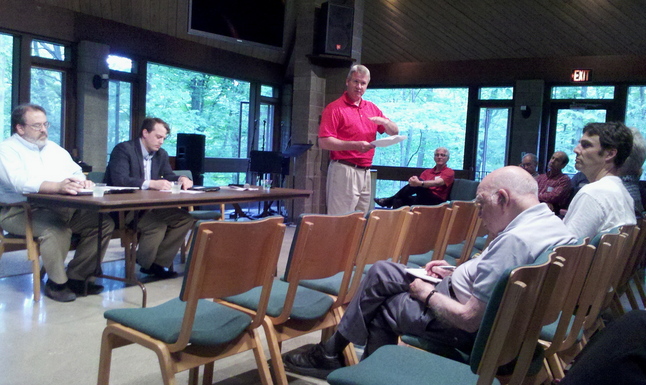 Danielle Arndt | AnnArbor.com
Editor's note: A comment by Jeff Irwin near the end of this article has been edited for clarity.
The message of an Ann Arbor forum on K-12 education funding in the state of Michigan Monday was clear: Education must be reverted to a non-partisan issue.
A group of about 40 people gathered from 7 to 9 p.m. at the First United Methodist Church at Green Wood in Ann Arbor to learn more about proposed statewide education reforms, the financial challenges threatening school districts and what community members can do to help.
There were three panelists involved in the discussion at the church: Michigan Rep. Jeff Irwin, D-Ann Arbor; Pioneer High School teacher and band director David Leach; and Steven Norton, a local schools advocate and the executive director of Michigan Parents for Schools, a nonprofit organization.
The panel was spurred on by a dinner chat FUMC Pastor Doug Paterson had with a former superintendent and by his continuous reading in the news about school districts struggling to stay open and enacting massive cuts to programs and services they provide to their students.
Although each panelist shared his personal perspective and experience with K-12 education funding in the state, they all stressed the most important component to changing the trajectory of public schools is changing the conversation — and doing so through frequent, perseverant and passionate community activism and engagement.
The panelists talked about Gov. Rick Snyder's lifting of the cap on charter schools and "cyber" charter schools and how that has hurt traditional public school districts. They talked about how the current Republican administration seems to be trying to replace human-delivered classroom instruction with technology-driven and online-based learning that will create a generation of adults who are good test-takers, but lack the ability to think, react, problem solve on the fly and work as part of a team out in the workforce or in everyday life.
"The vision of education that is coming out of an awful lot of this (legislation) is that transferring information and knowledge and facts into kids' heads is what we should be doing ... and machines can do more, cheaper than humans," Norton said.
Additionally, the panelists talked about how funding for schools has not kept up with inflation and that while Snyder and the Republicans are touting the increase they gave to districts in the budget that recently was approved, Irwin said the Ann Arbor Public Schools will receive just $5 more per pupil in this budget, when two years ago the district took a $470 per-pupil cut.
Danielle Arndt | AnnArbor.com
"We are going in the right direction, sure, but they are patting themselves on the back and doing a victory lap (for the $5 increase) and it's inappropriate," Irwin said.
But despite talk criticism of the current administration's policies, the panelists said ultimately, the focus cannot be on who is in office and how to get them out. Irwin and Norton both agreed education was not always as partisan of an issue as it is now, referencing the early John Engler era.
"We need to ... remind people of the values that cause them to care about education — the community, investing in the future," Norton said. "To be honest, we can't let the fate of our schools be controlled by partisan back and forth."
Irwin concurred. He said the state needs to invest in the fundamentals of prosperity, which education and high quality schools is one of the biggest contributing factors to an area's economic success and viability, he said.
Irwin explained there can be a benefit to being a Democrat during conversations with constituents about education because, generally, people tend to associate Democrats as believing government can work and being more willing to spend money on education. However, he said when there are problems in government and problems in school districts, both political parties are consumed with talking about the problems — Republicans about the problems with the governing bodies themselves and Republicans "go about trying to prove just how bad government can fail."
"That's where all the discussion goes. ... We don't talk about how our school system does work, how it is tremendous for our students," he said, adding that free-for-all, constitutionally-guaranteed, community-governed schools "are a tremendous American success story.
"It's a good investment. ... It's a solution that wins."
Norton said parents also cannot be "partisan" or biased toward only the cuts and reform policies that impact them directly. For example, he said people with a seventh- or eighth-grader can't only care about what is going to happen with middle school cuts or rally just for saving athletics because those people want their sons or daughters to be able to play high school sports to compete for scholarships.
"We need to come together to talk about it as a community. ... In the long run, the only way to present any permanent change is to push for measures in the best interest of all children in Michigan."
One audience member asked about Proposal A and whether it was a fallacy that the 1994 legislation was something voters and public schools advocates should try to repeal.
Irwin said eliminating Proposal A "is not a silver bullet" because the question then becomes what does the state replace it with? He said the legislation has done some of the things it was intended to do, such as establish more equity in funding throughout the state, despite disparities in income levels, property tax bases and a district's ability to pass increased taxes and raise revenue on its own.
"It's not that Proposal A itself is broken," Norton added in agreement. "But it has then laid control on the Legislature to answer the question of how and when to raise funds for education."
Danielle Arndt covers K-12 education for AnnArbor.com. Follow her on Twitter @DanielleArndt or email her at daniellearndt@annarbor.com.