Posted on
Thu, May 30, 2013 : 5:59 a.m.
'Friends' group forms to help find funding sources to sustain Ann Arbor's Roberto Clemente
By Danielle Arndt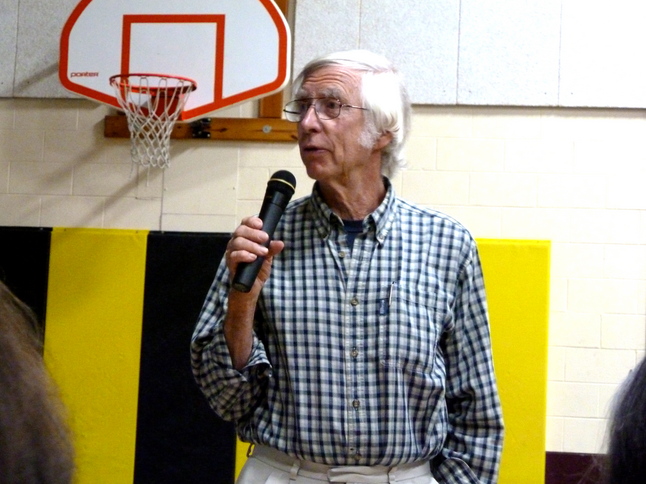 Danielle Arndt | AnnArbor.com
Editor's note: The location of Roberto Clemente has been corrected in this story. Roberto is located in Pittsfield Township, not Ypsilanti Township.
Ann Arbor school board members want to better understand the alternative high school Roberto Clemente Student Development Center, and most want to maintain it — but not at a cost that is more than $12,000 per pupil greater than the district's comprehensive high schools.
As it struggles to keep programs in the face of tight budgets, the board's performance committee discussed Wednesday the future of the school and heard suggestions from members of the Roberto "family" on how to sustain the program.
The alternative high school program has been on the chopping block the past several years, as the Ann Arbor Public Schools has dealt with the budget constraints.
Planning committee trustees Andy Thomas, Simone Lightfoot and Susan Baskett asked for help Wednesday from a group that is forming.
Ann Arbor residents Thomas and Sally Brush have no ties to the Roberto Clemente Student Development Center. They've never had a child or a grandchild attend the school. And if it weren't for becoming acquainted with Roberto Clemente founder Joe Dulin several years back, they probably would never have learned about the alternative program's impact on at-risk students or its value.
But today the couple is working to help the program survive.
They've begun to form and gather support for a group they are calling "Friends of Roberto Clemente." One of its purposes will be to research funding sources that exist for alternative education programs like Roberto and to find new funding sources.
Thomas Brush said after learning about the district's ongoing struggle to keep Roberto Clemente open and after learning more about the "school to prison pipeline," he and his wife felt compelled to get involved.
The "school to prison pipeline" is a phrase often used to describe a pattern of children with academic and disciplinary problems not being properly assisted by school districts and the children eventually ending up in the justice system.
Sally Brush said when she and her husband began spreading the word about wanting to form a fundraising group for the Roberto program, they were surprised by the amount of support the program already has in the community.
"We didn't have any connection to Roberto, so when we found this out, we said to ourselves, 'This is one of the lifeboats of the AAPS school system,'" Sally Brush said. "... We want to put together a task force to figure out the best way to educate at-risk children and how to fund it, so that we can not only keep this lifeboat, but have more lifeboats."
The couple would like to rally the community and find a way to offer an alternative high school program like Roberto countywide. Thomas Brush said there are more than 200 people so far who have signed up to be a part of the Friends of Roberto Clemente organization.
Now that it appears closing the Roberto program is off the table for next year as the school board weighs other potential budget cuts, Thomas Brush said the group can begin to talk about first steps and out-of-the-box solutions to the program's funding issues. Email friendsofrobertoclemente@gmail.com to get involved.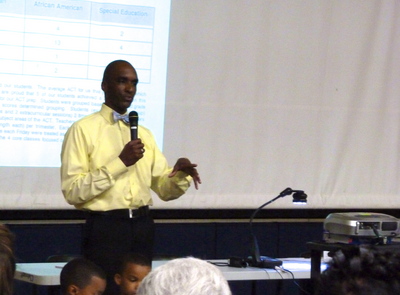 Danielle Arndt | AnnArbor.com
Roberto Clemente Principal
Ben Edmondson
talked Wednesday about the challenges the program experiences, such as teens with 1.5 GPAs, failing grades in every class and a third-, fourth- or fifth-grade reading level when they come to the school.
Even after two years in the program, about 40 percent of Roberto students still will receive one failing grade, Edmondson said, which is a fact that often disturbs him and makes him embarrassed at district-wide meetings or when he sees his students' test scores in the news.
"But really, this is all of our data in the district. We're all responsible. Something obviously was not working for a student long before they got to us," he said, adding when a student increases his GPA from a 1.5 to a 2.7, the school celebrates and encourages that student because "that's a huge gain and the best they've done in their life."
He also talked about how the budget cuts of the past four years have taken their toll on the school.
Edmondson said the Roberto's teaching staff has been significantly reduced and is down to seven teachers, and the number of elective courses the school can offer is incredibly limited due to having to make cuts. He said in the budget reductions last year, Roberto Clemente gave up its early release days on Friday to save on transportation costs. Students used to dismiss early on Fridays to participate in enrichment activities around the community.
Roberto's current enrollment is about 90 students, but according to district administrators, the building has the capacity for 179. A suggestion often brought up when talking about how to bring in additional revenue to Roberto Clemente and reduce costs is allowing the program to be a School of Choice program and to accept students from other districts. Then AAPS could market Roberto to other communities that might have children who could benefit from the mission, atmosphere of accountability and small classrooms.
However, longtime Roberto Clemente teacher Mike Smith said the program used to enroll 130 to 140 students, but because the teaching staff has been reduced so significantly, it physically could not accept any more students.
"Our services could be used for other kids in our district, but we don't have the faculty for it," Smith said.
The program already has received about 70 student referrals for the 2013-14 academic year. With a senior class of just 10 teens, the program will not be able to accommodate most of these new students, Smith said.
The board planning committee and the approximately 25 members of the public at Wednesday's meeting also spent time talking about how the district's proposal to eliminate high school transportation for all high schools at AAPS come fall would impact the Roberto program and student success.
All in attendance said eliminating busing to the school, which is located on Textile Road in Pittsfield Township, would effectively eliminate Roberto Clemente as a program. Sophomore Evan McKensie said right now he gets up at 5 a.m. and walks 1.5 miles to Pioneer High School to catch a 6:15 a.m. bus to Roberto Clemente in order to get to class by 7:35 a.m.
"Everybody I know has to take the bus. I know two people who get a ride here and that's because they have their own cars," McKensie said.
Over the years, teachers also have been known to pick up students from home or Meijer to take them to school, several staff members said.
"My dad works the graveyard shift and my stepmom has a newborn baby. They can't take me to school. ..." McKensie said. "I wouldn't be able to go to school if they cut busing. Or I'd go to Pioneer and that'd just destroy me because I'd be back to doing the same stuff I was doing and let's not name that."
Edmondson said he would like to see the district look into making Roberto Clemente a Title 1 program, which would allow the alternative high school to receive funds set aside by the state to help disadvantaged students become academically successful.
"Districts have some control over which schools they make Title 1. And last I checked, and maybe that's changed, but I believe Title 1 funds can be used to provide busing," he said.
Danielle Arndt covers K-12 education for AnnArbor.com. Follow her on Twitter @DanielleArndt or email her at daniellearndt@annarbor.com.