Jury trial in Eberwhite sexual assault lawsuit expected in late spring
Posted on Tue, Jan 29, 2013 : 5:59 a.m.
A jury trial is expected in May or June in the lawsuit alleging an Eberwhite Elementary School student was sexually assaulted twice and officials failed to protect her.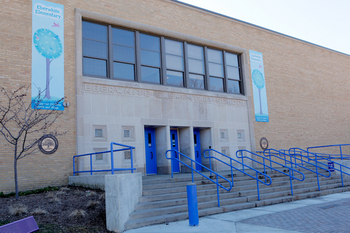 Chris Asadian | AnnArborcom
According to court documents filed in the United State District Court Eastern District of Michigan earlier this month, a jury trial will come in May or June of this year. All discovery in the case must be filed by March 1 and the final pretrial hearing is scheduled for 1:30 p.m. May 21.
The lawsuit alleges the then-7-year-old girl was sexually assaulted and bullied in October 2010 and March 2011. The girl and the boys who allegedly bullied and assaulted her were all special education students in the same class.
According to court documents, the girl went to the bathroom on March 22, 2011 and a classmate somehow got into the restroom with her. The boy allegedly pulled her off the toilet, kissed her, undressed himself and the girl and attempted to engage in oral sex.
There were four adults assigned to the special education classroom at the time of the alleged assault, but only one student teacher was present. The student teacher noticed the two students were missing, eventually telling them to come out of the bathroom.
Documents showed the boy came out first, pulling up his pants and fastening his belt while the girl remained seated on the toilet. The students were taken to the office and the regular teacher was called in from a meeting to talk to them.
After speaking with the students, the teacher called interim principal Judy Copes and left a voicemail. The next day, Copes met with the girl's mother and told her about the incident. According to the lawsuit, the mother took her daughter to the hospital and hospital personnel notified police of the alleged assault.
The girl told police the boy and another boy bulled her during the school year. She said they sexually assaulted her and another girl while they changed into their Halloween costumes earlier in the school year. The same boy attempted to engage the girl in oral sex, while the other boy attempted to take the other girl's clothes off, according to court document.
The lawsuit alleges the students' teacher did not ask questions about why the boys were in the bathroom with the girls. Its also alleged Copes asked the girl's mother not to tell police about the assault.
Due to the boys' special education status, they received a two-day suspension from Eberwhite, documents stated.
The lawsuit alleges violations of the American Disability Act, the Persons with Disability Civil Rights Act, section 504 of the Rehabilitative Act, the 14th Amendment and Title IX. The girl's family is seeking $75,000, in addition to costs and attorney fees.