Posted on
Thu, Jun 13, 2013 : 6:05 p.m.
Letter: ACLU calls school board's decision to charge students for 7th hour 'misguided and illegal'
By Danielle Arndt
The American Civil Liberties Union of Michigan issued a letter to the Ann Arbor Public Schools Board of Education and Superintendent Patricia Green Wednesday calling the district's proposed fee for seventh-hour high school classes "misguided and illegal."
Angela J. Cesere | AnnArbor.com file photo
Despite the letter, the school board went ahead with its proposal to charge
Pioneer
and
Huron
high school students who are interested in taking seven classes instead of six. The proposal was approved as part of the 2013-14 budget
passed at about 2 a.m. Thursday
.
Initially the board discussed charging students between $350 and $500 per semester for a class, up to $1,000 per student per year. But the board decided to call back this fee a bit to ease into the tuition program. It approved a fee of $100 per course, so up to $200 per student per year.
Treasurer Glenn Nelson said by treating next year as a transitional year, it will give the district time to see how many students would continue to enroll in the seventh-class option, as well as how many students would qualify for tuition reimbursement.
The district would offer some type of a scholarship or fee wavier to students who receive free or reduced-price lunch or can claim financial hardship, similar to how low-income students are waived from paying pay-to-participate fees for athletics.
Nelson also said transitioning into the tuition program gradually gives the district time to settle any legal challenges related to this proposal.
"I fully expect us to be sued for it," he said at Wednesday's regular Board of Education meeting.
Nelson explained he understands the desire people may have to vet the legality of the seventh-class option fee in court. "I believe it will stand," he said. "We have had some legal advice on this matter. … A year from now, we may need to be taking much more drastic steps (with the budget) and if we had the institutional arrangements and the structure in place, the legal settlings' established precedent, then we could go to a more robust tuition-based model."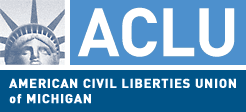 The letter from the ACLU does not specifically state the civil liberties union or any other organization plans to pursue legal action against the district for the fee structure at this time. However, the ACLU does say it sees the course tuition proposal as a violation of the
Michigan Constitution
, which requires the State Legislature to maintain a free elementary and secondary public education system.
The organization says the Michigan Supreme Court ruled the guarantee of a free public education extends to any school activity that is considered "a necessary element of any school's activity" or an "integral fundamental part of the elementary and secondary education."
"Our system of free public education is founded on the idea that all children should have access to knowledge through teachers, classrooms, books and rigorous and varied curricula. The proposal of charging for seventh period flies in the face of this American tradition," wrote Kary Moss, executive director of the ACLU of Michigan, who penned the letter.
Moss, who notes she is a graduate of Ann Arbor Public Schools and recently had a daughter go through the district, went on to say:
The AAPS has long enjoyed a reputation for providing exceptional educational opportunities to their students, including a wide range of arts, music and Advanced Placement courses. In order to take advantage of these opportunities, many students must take a seventh period class for at least one semester of their high school careers. When this opportunity comes at a cost to students, the schools will have effectively created a two-tiered system of public education that will benefit those who can afford to pay while those who cannot are forced into a different educational experience. Such a policy would be contrary to the basic principal that a key goal of public education is "to break down the social barriers between the classes and act as an equalizer." For a district that has struggled with the achievement gap, putting such a practice into place would only, presumably, impose yet another hurdle whose consequence would be to exacerbate this serious issue.
District officials said about 20 percent of high school students in the AAPS enroll in a seventh class.
AAPS board Secretary Andy Thomas said he would expect it's "almost a perfect overlay of the highest academic achieving students" in the district and those 20 percent of high-schoolers who take advantage of the extra class option.
"I would also expect you'd see a close correlation between those in seventh hour and those in a high socioeconomic class," he said. "… I would expect very few students will not be able to continue to take a seventh hour (under a fee-based enrollment model). For all intents and purposes, this is a very elite part of our school district. And in this day and age, it's not unreasonable to say: you want an elite education in the Ann Arbor Public Schools? Then you need to pony up a little bit to be able to do that."
District spokeswoman Liz Margolis said Thursday district officials are not worried about being sued for charging students for a seventh class period.
"We wouldn't have moved forward if we weren't confident it was legal," she said.
Margolis explained the state's per pupil foundation allowance that districts receive is to provide the credit-hour equivalent of six courses for students. School districts legally are only required to offer six courses and are only paid to offer six courses, she said.
"So Ann Arbor has had the wonderful luxury for many years of being able to pay for students to have more options and take more classes," Margolis said. "But … it's now a reality that — it's a lot of ugly choices the board had to make."
Danielle Arndt covers K-12 education for AnnArbor.com. Follow her on Twitter @DanielleArndt or email her at daniellearndt@annarbor.com.