Posted on
Fri, May 24, 2013 : 5:37 p.m.
Morning-only high school busing would save Ann Arbor schools $150K
By Danielle Arndt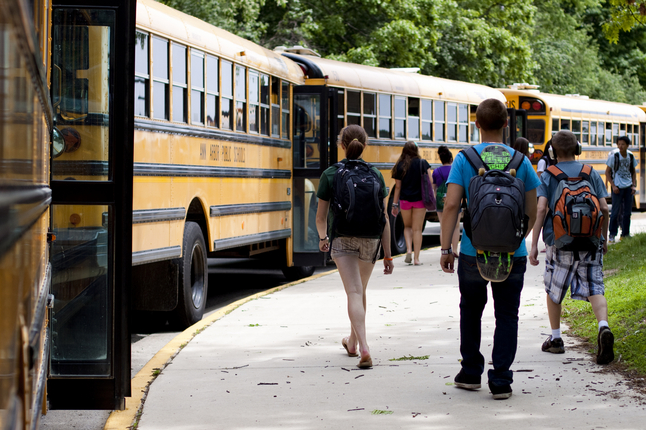 Jeffrey Smith | AnnArbor.com file photo
A suggestion to operate morning-only busing for high school students would save the Ann Arbor Public Schools less money than officials thought, according to information AnnArbor.com received late Friday afternoon.
District officials originally estimated operating pick-ups only for high-schoolers, and not drop-offs in the afternoon, would carry a cost savings of $233,000, half the amount the district would save if it eliminated high school transportation entirely.
But Communications Director Liz Margolis said upon further review, the district learned the cost to run "to school" morning service would save $150,000 — not half the cost of high school bus service.
District administrators proposed no longer offering high school busing as a way to save $466,000 en route to closing an $8.67 million budget gap for the 2013-14 academic year. The proposal is part of a long list of cuts the school board will weigh to try to pass a balanced budget before June 30.
Margolis said the $150,000 represents fuel and wage savings only from reducing drivers' hours. But drivers still would have to be maintained to operate the morning routes, so the district would not save on total wages or insurance and benefits.
AAPS continues to pay wages and benefits for the district's drivers, despite the drivers being employed through the Washtenaw Intermediate School District.
AAPS contracts with the WISD for transportation services to save about $2.5 million on its overall transportation costs. A significant portion of this savings comes from the WISD — as opposed to the district — paying the pension contribution amount for drivers.
Margolis said in discussing the idea to offer morning-only high school bus service further, a concern came up about retaining drivers under this scenario, as their hours would be reduced — meaning they would make less money.
As the district and the Ann Arbor community became acutely aware of during the third-quarter financial report, the WISD already is struggling to attract and retain drivers and especially substitute drivers. Because of this, the WISD is having to pay substitute drivers a higher wage, AAPS Executive Director of Finance Nancy Hoover previously said.
The Ann Arbor Public Schools were required to budget $700,000 more than originally expected for transportation, which contributed to a third-quarter deficit of $1.3 million and an overall current-year deficit of $3.8 million.
The $3.8 million shortfall for the 20112-13 school year has led to AAPS borrowing money for the first time in its history to pay employees during three periods of low cash flow from now until December.
Margolis said that district officials will report to the school board at its next regular meeting their findings and the estimated savings of reducing high school transportation in the afternoon only. This morning-only suggestions was made by Trustee Andy Thomas at Wednesday's Board of Education meeting.
Danielle Arndt covers K-12 education for AnnArbor.com. Follow her on Twitter @DanielleArndt or email her at daniellearndt@annarbor.com.