Posted on
Sun, Jul 21, 2013 : 5:58 a.m.
Osborne: 'Carefully considering' Ann Arbor schools superintendent position
By Danielle Arndt
The man Ann Arbor school board members say is the right man for the job is thoughtfully weighing the move with his family, which the Board of Education voted 7-0 to offer him Friday night.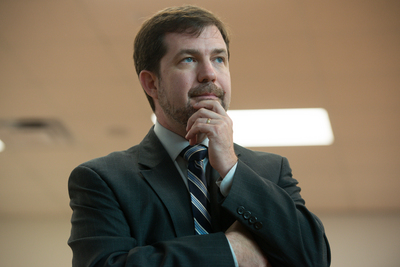 Courtney Sacco I AnnArbor.com
After a speedy but vigorous three-month search process,
Ann Arbor Public Schools
trustees are certain they've found a highly qualified new superintendent for the district in
Brian Osborne
of South Orange-Maplewood School District in New Jersey.
Osborne had nothing but praise and gratitude for the board in a statement he made to AnnArbor.com late Saturday.
"I think the Board of Education ran a very thorough, complete, rigorous and transparent process," Osborne said. "It's community is lucky to have a board that takes its job so seriously. I'm very honored and humbled by the confidence the board has shown in me by their actions. I look forward to further conversations with them and to carefully considering their offer with my family."
The Board of Education is still waiting for an "I accept" from Osborne, indicating he intends to come to Ann Arbor, if a contract can be agreed upon.
In a phone call following Friday's regular board meeting, Osborne told President Deb Mexicotte he was looking forward to engaging in contract negotiations, but did not say that "yes" he accepts and is looking forward to being the next superintendent of the district.
Mexicotte said Friday that Osborne is the right fit for Ann Arbor and that for him, she personally is willing to wait. "I won't wait forever, but a few days? Of course," she said, adding this is a big move for him, his wife and two children, who are in grades 3 and 6.
Osborne said Wednesday during his Q-&-A session with the community that Ann Arbor is someplace he can see being a father and a husband and that if he accepts the position, his children will graduate from the Ann Arbor Public Schools.
Osborne has a clause in his current contract with South Orange-Maplewood that says he must give 90-days notice prior to leaving his superintendency there. This clause was a concern and point of contention for a couple trustees Friday.
Trustee Susan Baskett said she at least would like him to clear his schedule to be here for opening day for staff and for the first day of school for students.
But Mexicotte said in an interview Saturday there would be a transition period with any candidate, which is why the board opted to appoint an interim superintendent, David Comsa. She said the district is in very capable hands with Comsa and the rest of the leadership team during the transition. She added Osborne will still be working very hard for the district even while he is in New Jersey.
"If 10 years from now, the case is as we've hoped with Dr. Osborne still here and we've built a stronger district financially with improved outcomes for all students, I expect we'll look back on this three- to fourth-month period of transition and not think anything of it," Mexicotte said. "While we are hungry ... to get on with the work and so excited that that work may be with Dr. Osborne, we also know that we are taking the long view, and so is he, to make a match that we both believe will be a long and fruitful collaboration...
"So if I had to choose, I would rather he takes the time he needs on the front end ... to be in it for a long haul of excellent leadership than moving too quickly."
Danielle Arndt covers K-12 education for AnnArbor.com. Follow her on Twitter @DanielleArndt or email her at daniellearndt@annarbor.com.