Posted on
Tue, Sep 4, 2012 : 10:15 a.m.
Parents, children embrace all-day kindergarten on first day of school in Ann Arbor
By Danielle Arndt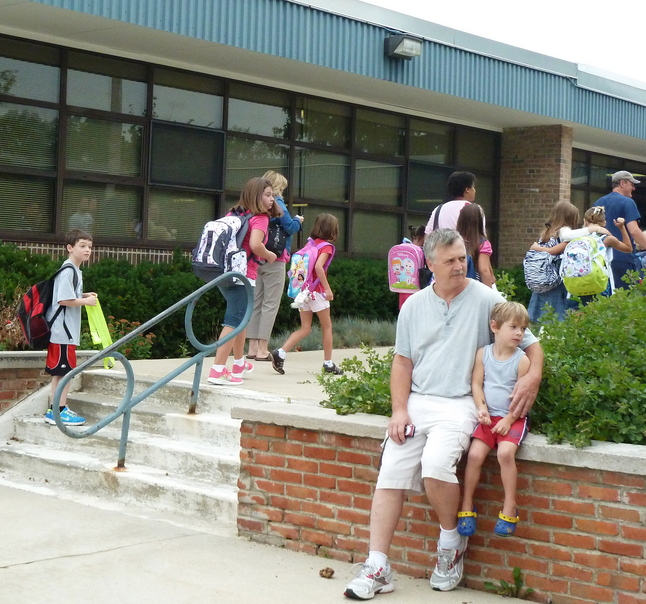 Danielle Arndt | AnnArbor.com
Let kids be kids is the argument frequently made against all-day kindergarten. But in Ann Arbor Tuesday morning, as pupils bounded off buses and dragged their parents down hallways, waving and giving the thumbs up to their friends, it would be hard to say kindergartners were being anything but kids.
The excitement was palpable among the incoming kindergarten students at Ann Arbor's Abbot Elementary School Tuesday. Parents held their children's hands as they walked to the kindergarten corridor of the school.
For the first day, parents could help hang their child's backpack on a peg outside the classroom and follow kindergartners into their classrooms to give one last kiss or a hug or an encouraging smile.
Often parents, not their children, were the ones needing the encouraging smile. Parent Molly Mason said that's par for the course.
Danielle Arndt | AnnArbor.com
"It's a very traumatic moment for the moms," said Mason, whose two youngest sons started all-day kindergarten Tuesday. "The kids do fine. It's the moms that have a hard time."
While all-day kindergarten is new throughout Ann Arbor Public Schools this fall and in many other districts in Washtenaw County, the switch from the more traditional half-day program did not seem to have a huge impact on families, school officials said. It was just another first day of school, they said.
A new law forced Michigan school districts to make a choice between providing all-day kindergarten or receiving only half of their per-pupil foundation allowance for all students enrolled in half-day programs at the start of the 2012-13 academic year.
The state mandate would have caused AAPS to lose $3.5 million in state aid, if district officials had not decided to switch to the full-day program.
Implementing all-day kindergarten cost AAPS a total of about $1.5 million.
Mason said the switch to all-day kindergarten was the reason she enrolled her two sons, Henry and Elliott, at Abbot Elementary.
"It's the reason we came back," Mason said.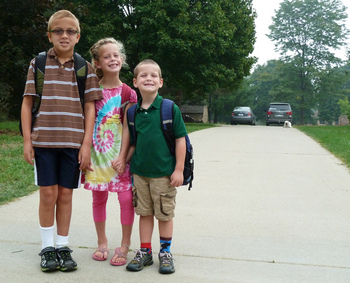 Danielle Arndt | AnnArbor.com
Last year, Mason and her husband drove 15 miles to send their children to a Montessori program because it offered the full-day option. Prior to the state's funding stipulation, Ann Arbor offered all-day kindergarten only at Allen, Bryant, Carpenter, Mitchell, Pittsfield and Northside elementary schools.
Mason said especially for boys, a structured schedule and curriculum is incredibly important for their future academic success and endurance. She said the all-day structure will better prepare them for future years, when more and more curriculum is added at each grade level. She also said the Montessori kindergarten program her sons attended last year was too self-directed, so she decided to enroll them in a second year of kindergarten in Ann Arbor.
Emily and Mike Macneil loaded their three children on the bus Tuesday morning outside of their home on Hensley Drive. Son Liam, 5, was starting kindergarten and was going to school with big sister Lauren, 7, at Abbot.
Emily Macneil said Liam isn't typically shy but that he would act shy for the first day.
Because the Macneils have had two children go through kindergarten already and participate in the extended-day option at Abbot, the couple was excited and happy when the district started offering a true all-day kindergarten program. The extended-day program provided a half day of instruction and a half day of activities in a classroom environment.
"It's old hat for us, I guess," she said, adding most of their friends also are pleased with the switch or are putting their oldest children in kindergarten and "don't know any different anyway."
Danielle Arndt covers K-12 education for AnnArbor.com. Follow her on Twitter @DanielleArndt or email her at daniellearndt@annarbor.com.