Posted on
Mon, Jun 10, 2013 : 4:10 p.m.
Arson suspected in picnic table blaze outside Burns Park Elementary
By Danielle Arndt
A picnic table outside Burns Park Elementary School was burned early Saturday in a fire that is believed to have been started intentionally.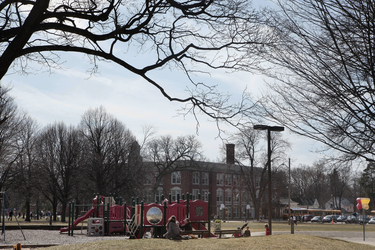 Chris Asadian I AnnArbor.com file photo
Burns Park Principal
Virginia Bell
, who is
retiring
in July, sent an email to parents around 11:30 a.m. Monday after meeting with a city fire inspector and police officer.
"… Our picnic table in front of the school was destroyed by being burned," Bell wrote. "… The inspector confirmed arson. There was no other damage to school property, and police are investigating. Any leads can be forwarded to the Ann Arbor Police Department."
AAPD Lt. Renee Bush confirmed that police and Ann Arbor firefighters were called to the school for a report of a picnic table that burned between Friday night and Saturday morning.
She said the fire department is investigating if the fire was an arson. It is categorized as a "suspicious circumstance" by police until the fire department is done with its investigation, Bush said. Fire department officials could not be reached for comment Monday.
"Anything involving a fire is turned over to the Ann Arbor Fire Department," Bush said. "We provide support if they need that. It's up to them to investigate and for them to determine if it was done intentionally."
Bush said there is nothing in the police report from the incident to indicate the fire may have been part of a prank.
Ann Arbor Public Schools Communications Director Liz Margolis said school officials went out to the school over the weekend to look around and custodial staff was at Burns Park Monday morning cleaning up debris from the fire. She said there were no other incidents of property damage that occurred on district grounds over the weekend.
"Because the school (Burns Park) is right next to the public park, it is a different property than any of the others we own," Margolis said, explaining that property damage occasionally is an issue at the elementary school.
Cops and courts reporter Kyle Feldscher contributed to this report.
Danielle Arndt covers K-12 education for AnnArbor.com. Follow her on Twitter @DanielleArndt or email her at daniellearndt@annarbor.com.