Posted on
Mon, Sep 10, 2012 : 1:30 p.m.
U-M seeking families with autistic children for new reading study
By Danielle Arndt
Autistic children in the Ann Arbor area can participate in a research study this fall that evaluates their reading skills.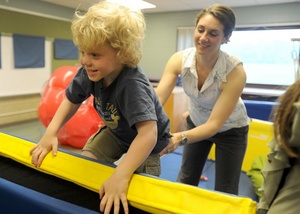 AnnArbor.com file photo
The purpose of the study is to explore why some children with
Autism Spectrum Disorders
learn to read easily and others seem to struggle, according to the study's
website
.
Families with verbal children, ages 6 to 9, who have been diagnosed with Aspergers, autism or pervasive developmental delay can contact Pam Kittel, the primary investigator of the University of Michigan's "Reading and Autism Study," to take part in the research.
U-M's School of Education is conducting the study with the support of Eastern Michigan University's Autism Collaborative Center.
According to the study's website, in a single appointment, the participating child will be assessed for language, literacy skills, cognitive ability and cognitive flexibility while the parent completes a questionnaire and two checklists. Families will receive a detailed report with the results of their child's assessments and a $25 store gift card.
Kittel may be reached at pkittel@umich.edu or (734) 358-9358.
Find more information on the Reading and Autism Study here.
Danielle Arndt covers K-12 education for AnnArbor.com. Follow her on Twitter @DanielleArndt or email her at daniellearndt@annarbor.com.